Charting a Path for Utility Digital Transformation with Salesforce Energy and Utilities Cloud
July 20, 2022

Indranil Chakraborty
Over the last decade, the energy industry has witnessed a transformation in the utility-customer relationship. To flourish in a new energy economy, utilities are coming out with robust, innovative customer offerings and more comprehensive customer experiences. There has been a steady convergence of digital innovation and customer experience transformation spearheaded by other verticals. We find ourselves at a key moment when technology is able to fully support today's customer-centric business models. Now presents the perfect opportunity to create an technology stack for utilities that can evolve with both customer experience and business goals.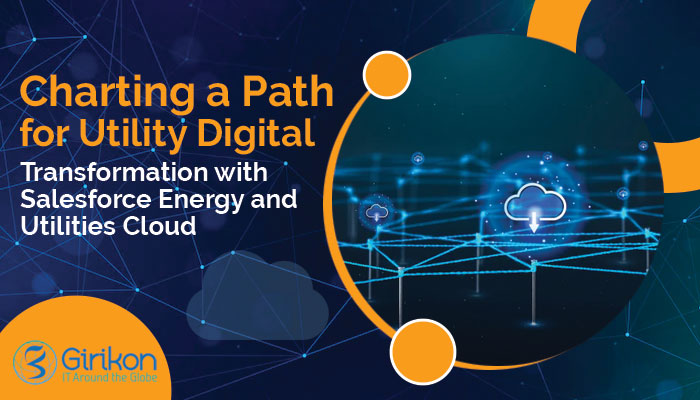 Diversification, distribution, and digitalization
The distributed grid necessitates the need for distributed digital intelligence. Around the world, energy systems are undergoing transitions that are transforming how we drive our businesses fuel our cars and keep our homes warm. Today's transmission and distribution systems and no longer centralized. They now must support a complex, distributed network of generation and transmission. Having said that, consumers, both residential as well as business, expect best in class experiences and want providers to earn their business. Customers have more power than ever and it is imperative for utility companies to evolve into a customer centric, digital first model.
Customers: the utility's most valuable asset
Utilities have a chance to service growing customer demand by using agile digital technology and customer-experience centric design. The objective is to sustain trusted customer relationships and boost lifetime value of a customer. But what does that entail? Here are some developments that have transformed the overall landscape and augmented the pace of change.
Clean energy, Smart devices, and utility marketplaces offer more choice to customers. The shift to a renewable, sustainable, and distributed energy model is gaining momentum globally as the cost of solar, wind and battery storage becomes more and more viable than fossil fuel based generation. While demand for electricity continues to grow, the choices available to customers is expanding for cleaner, localised, and non-utility-owned sources of energy. Customer demand is also increasing for renewable energy options, rates that better fit their consumption patterns, or incentives for conservation or demand-management behaviours that keep the grid reliable, safe, and green. Utilities need to offer multidimensional offerings to address the needs of a dynamic and fragmented market.
Digital engagement is the new way for customer communications. And customer expectations are increasing, and they have more choices than ever in both regulated as well as free markets. Unlike the traditional vanilla model, customers today wish to engage with providers for several reasons other than to report an outage, resolve billing issues, or augment service. Utility customers are becoming smarter which leads to more complexity, choice, or market fluctuation. They expect utilities to know them personally because of the data being collected about them. Consumers want all their touchpoints to connect to deliver a seamless journey — from text alerts and call centers to chatbots and service calls.
It's a very different landscape compared to just a few years ago. Utility companies now need to have the systems and processes in place to sustain and grow. Significant challenges also translate to greater opportunities for better performance and growth for utilities that are more agile and responsive to rising customer expectations.
Choosing the right platform
To propel the innovative, creative re-imagining of the customer experience, the utility needs the right platform and a digital transformation strategy in place. At Salesforce Industries, we have seen utilities take many tactics that boil down to a few general approaches. Some are more successful than others at achieving business objectives, but only one is truly future-proof and flexible. There is no doubt that technology innovation has become superior, faster, and cheaper to deploy, delivering customised solutions that drive customers delight and business growth.
Approach 1
Customize, upgrade, or replace the utility (CIS)
Utilities on customer systems or older, highly customized solutions are faced with replacing their customer information system (CIS ) as a first step in the move to the cloud. These initiatives are expensive, risky, and long, but necessary. While CIS upgrades are a requirement for cloud transformation, they are not sufficient to put you in a better position for agility and innovation. They are merely better repositories, but they do not position the utility to exceed customer expectations. Billing systems are not the most foundational first step in digital transformation. Improving customer billing is certainly a good start to improving customer experience, but if you are getting bills out the door, now is not the time to replace your billing system as part of a customer experience transformation project.
Approach 2
Bolt-on custom-built extensions
Some utilities choose to bolt-on more functionality to key customer gateways like contact center portals, commercial and industrial (C&I) account management portals, customer web portals, or mobile apps. These are often costly to maintain, and with scarce IT resources, utilities cannot keep pace with innovation. If a utility chooses this option, it would be hard to be successful unless they have a systems integrator advise on their data models and help them develop extensions that will allow them full access to — and value from — that customer data for future innovation.
Approach 3
Use small-point solutions (like chat or social) to solve problems
Like call center upgrades or billing systems upgrades, the use of small-point solutions like chatbots seem like a good entry point for both digital evolution and customer experience improvement. This can be a good strategy for some quick wins but often leaves the utility with siloed information and sometimes costly integration.
Approach 4
Adopt a CRM or customer engagement solution
Some CIS vendors are working on upgrading their platforms to offer cloud computing and customer relationship management (CRM) solutions. A common way that CIS vendors choose to accelerate this is to reuse code developed for other clients. Beware of the tendency to overlook your business goals to meet their time frame. System integrators do a great job of connecting systems, and they do a good job of configuring them and coding where necessary, but most of these systems are not best-of breed cloud solutions — and do not bring with them the needed industry innovation.
There is a thoughtful, alternate approach to the twin challenge of customer innovation and digital transformation. It is possible to both enable your utility to deliver value to customers and business units while lowering risk and also laying a future-proof foundation for agility, transformation, disruption, and innovation. This approach means transforming your employee and customer experience without the risks that come with custom solutions or major changes to legacy customer systems. This approach also requires a best-in-class, true cloud platform and an industry-specific product grounded in customer-centric innovation.
Approach 5
Buy a generic CRM platform
A generic cloud CRM solution gets closer to the twin goals of customer experience and digital transformation but will still be costly to implement and integrate to the CIS and other systems because it is not industry-specific. It doesn't know anything about a premise or a service agreement, let alone a complex multi-step transfer of service process.
While each of these approaches can solve for some immediate hurdles, a more flexible and future-ready approach is to start with proven best practices for cloud-based CRM and make that the standard by which you measure the gaps or limitations in your existing CIS.
Best solution — a customer-first approach with your utility business in mind
A cloud platform for customer-centric innovation
Why Cloud? Cloud has always promised security, scalability, performance, and availability. Why Platform? A platform is an aggregation of technologies that are used as a foundation upon which other apps, processes, or tools are built. It is the connective tissue that utilities need to manage the diversity of their legacy systems, third-party systems, and new digital capabilities. A cloud platform allows utilities to configure, code, build tools, and accelerate innovation. In addition, the platform should be easy enough and robust enough to sustain an ecosystem of partners — the majority of whom are running their businesses on Salesforce.
An industry-specific product
Why Industry-specific? The risks are too high to embark on turning a horizontal system alone into a utility CRM/CX. The Utility IT team will end up having to develop a lot of custom code, which will mean costly support and testing. In our experience, it's wiser to start with a foundation in the industry and configure from there. Why product, as opposed to a custom accelerator? With the other risk factors that utilities face, there is no reason to go with a custom accelerator or one-off code, which do not offer continued industry innovation, nor a long-term product roadmap. System integrators would agree that a dedicated product solution is the smartest.
The Salesforce Energy & Utilities Cloud
Modern, personalized digital customer engagement requires a new approach with fresh thinking and leading cloud innovation partners. Salesforce Energy & Utilities Cloud is a complete CTM and customer experience platform uniquely built for energy and utility companies. Salesforce helps utility service providers transform to digital engagement faster while mitigating risk through delivered industry capabilities, including pre-configured industry processes and productized integration procedures with leading utility CIS platforms.
Build: Establish a purpose-built cloud platform
Agility in business starts with a robust cloud platform that sustains scalability and flexibility. But, agility for utilities requires a cloud platform that's built specifically with energy and water utility business models in mind.
Industry-specific cloud software now aims to create an enterprise platform that consolidates and/ or replaces such point solutions and operates the entire front, middle, and back offices. For example, Salesforce chose to extend the world's #1 CRM cloud platform into a full energy and utilities stack.
Salesforce's industry solution eliminates the need for custom development to support business processes unique to the energy and utilities industry. And, building on Salesforce supports guaranteed uptime, security, and an established cloud platform.
But no matter which vendor you choose, take time to consider technological solutions that lay the groundwork for current and future needs.
Questions to Ask Yourself for Platform Selection
Organizational Agility
Can you quickly adapt to changing market conditions, regulations, and competitors?
Speed to Market
Can you easily configure customer offerings and promptly launch them in the market?
Software Interoperability
Can you easily integrate applications – internal or external, and future acquisitions?
Lower Operating Cost
Can you minimize the software, hardware, and human resources needed to manage business processes?
Frictionless Experiences
Can you improve and create consistent experiences for members, providers, producers, employees, and partners?
Business Transparency
Do your analytics help you to understand business performance and compliance?
Girikon is a Gold Certified Salesforce Implementation Partner and delivers industry-specific, digital, omnichannel solutions for customer-centric industries. We enable companies to achieve business agility and greater productivity. Contact us today to know more.
About Author
Indranil is a technology enthusiast with over 25 years of experience in project management, operations, technology and business development. Indranil has led project teams in egovernance, business process re-engineering, product development and worked with Government and Corporate customers. Indranil truly believes in the power of technology to drive productivity and growth for teams and businesses.
Share this post on: