How to Grow Your Business Rapidly Using Salesforce Marketing Cloud?
May 5, 2022

Indranil Chakraborty
Your customers prefer digital first. And that's great news. Because now you can do more with every interaction your customer has with your brand. The secret lies in is connecting these interactions across the journey. That's what it takes to foster long term relationships.
To create a trusted enterprise that customers love to interact with. And for that you need to unify all the data customers have entrusted you with and put it to smart use. To make interaction more relevant and personalised. Across commerce, digital experiences, sales and customer service.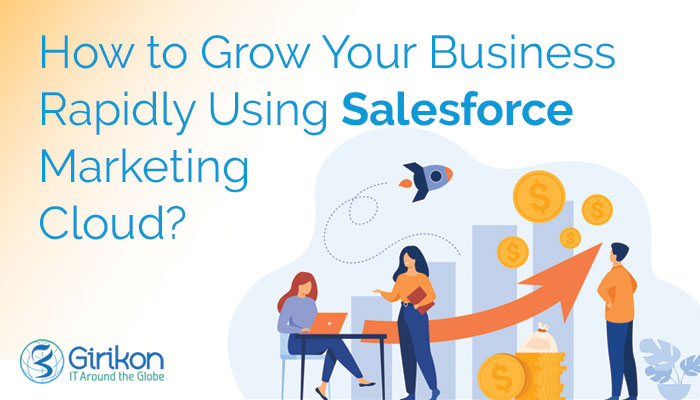 Salesforce Marketing Cloud puts data at the heart of the relationship and that begins with knowing your customers. Marketing cloud combines all your data to create a single source of truth, and gives you a 3-dimensional view of who they are and what they seek. In real time as and when their needs change. So not you can personalize every interaction whether it's a welcome email for a new customer or an ad for a product. And with Einstein AI, the heavy lifting is done for you. Marketing Cloud helps you enhance the impact of your interactions. Giving you actionable analytics on business goals in real time.
With Marketing Cloud, marketing campaigns are more personal, more valuable and more relevant. And with Slack you can adapt with agility, because your teams, partners and tools are more connected and insights are more accessible.
Marketing Cloud comes integrated with a full suite of products, each designed to deliver specific benefits to help you drive your campaign goals.
MARKETING CLOUD PRODUCTS
Marketing Cloud comes integrated with a suite of products designed to strengthen your customer relationships across every interaction. Let's look at some of the key ones to know exactly how they can help you turbo charge growth of your business.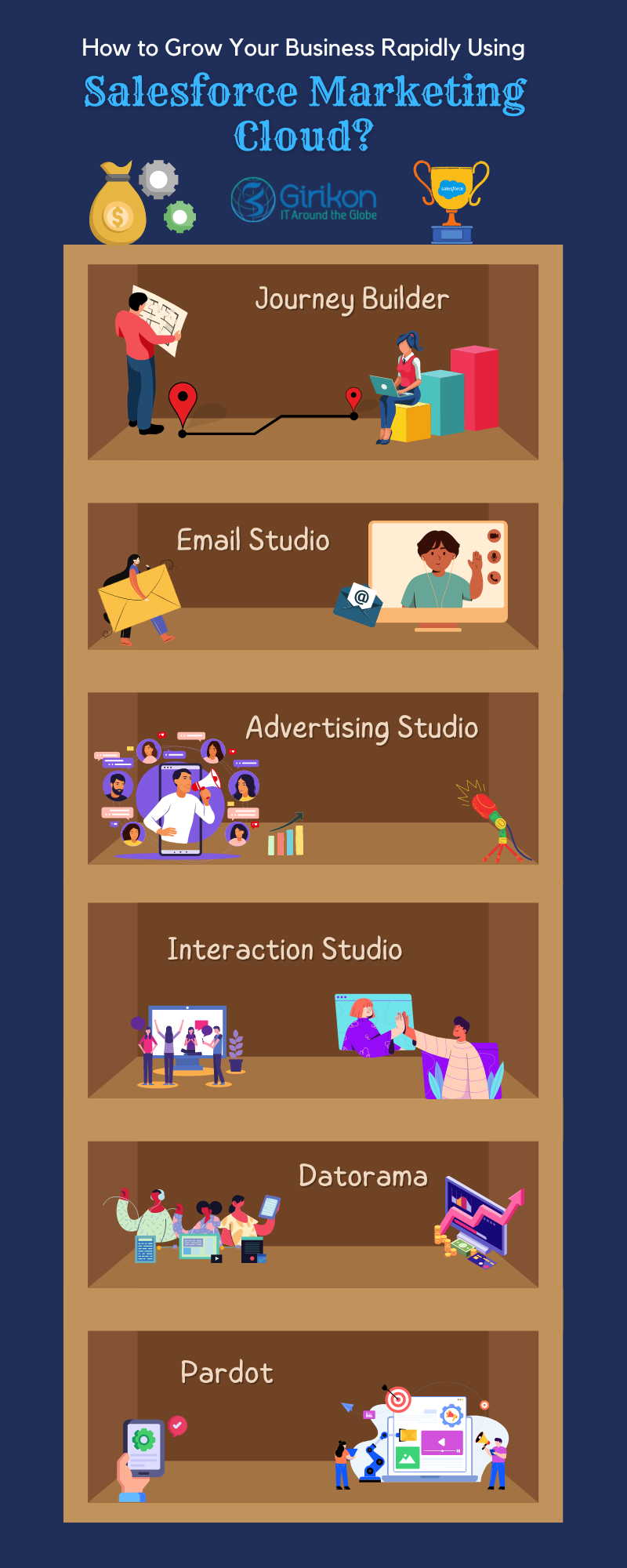 Journey Builder
Build personalised customer journeys across channels and departments.
BE AWARE OF CUSTOMER CUES
Connect all your customer data from any source based on attributes, browsing behaviour, and purchase history to deliver personalised messaging.
Automatically ping customers in their journeys in real time based on purchases, mobile app downloads, or closed service requests.
Continually evolve customer journeys based on their current and predicted behaviour.
CONNECT THE CUSTOMER EXPERIENCE
Visualize customer journeys for better understanding.
Communicate effortlessly across email, SMS, notifications, ads, landing pages, and apps — so your customers get the right information at the right time, on any device.
Unify marketing, commerce, sales, and service across the customer journey to improve engagement.
ADAPT WITH EACH CUSTOMER
Develop and manage automated journey logic for customer engagement, purchase decisions, random journey bounces, and content views. Be prepared for every kind of customer interaction.
Deliver custom personalised journeys to up to millions of individual customers.
Leverage reporting to drive actions based on performance and trends.
DELIVER DISTRIBUTED MARKETING
Delivery branded journeys across email, mobile, and advertising.
Share customer journeys with stakeholders such as owners, franchisees, and partners.
Customise journey content with integrated tools available in Sales Cloud, Community Clloud and Service Cloud.
Aggregate customer journey data and analyse individual engagement to optimise each journey.
Email Studio
Unify all departmental data to build and deliver smarter email messages.
TARGET YOUR AUDIENCE
Use drag-and-drop tools to refine your subscriber list, to deliver relevant messages. Filter millions of profiles in seconds.
Schedule outbound messages, distribution of reports, and data imports from external sources — so you can focus on creating great campaigns.
With Einstein, recommend content that resonates with highly engaged subscribers and improve conversions.
BUILD STUNNING EMAILS
Quickly and effortlessly optimise emails for mobile.
Use content blocks to populate email designs effortlessly with world class templates.
Delight your audience with tailored, real-time content with drag-and-drop functions, or HTML code and personalised scripting language.
Deepen customer relationships with email conversations that drive every stage of the customer journey.
AUTOMATE YOUR EMAILS
Get your message to the top of the customer's inbox — at the time your customer is most likely to see it.
Improve your marketing team's efficiency by automating outbound delivery schedules.
Maintain 1-to-1 relationships even with an audience of millions with the flexibility and scalability of Salesforce.
Run complex performance reports to determine what's working, what's not, empowering you to perfect each campaign.
Advertising Studio
HARNESS CUSTOMER DATA
Use any data across Marketing Cloud, Sales Cloud, and Service Cloud to refine your advertising.
Synchronize customer records instantly across digital channels even with an audience of millions.
Use Audience Studio to build audiences on the entire display advertising ecosystem – Facebook, Google, Instagram, LinkedIn, Twitter, YouTube.
CONNECT YOUR CHANNELS
Synchronize advertising and email to expand your reach.
Smartly identify and reconnect with customers who are no longer interacting with your brand, on their preferred channel.
Control advertising spends on social media channels and optimise spending by excluding unwanted segments.
GENERATE MORE LEADS
Enhance your customer acquisition and cultivating strategy by connecting your advertising with lead scoring, nurture campaigns, and sales teams.
Automatically import Facebook leads into Salesforce and take immediate action.
Increase the ROI from your Google AdWords campaigns by separating your prospect and existing customer campaigns.
Interaction Studio
GET INDIVIDUAL INSIGHTS
Build more accurate customer records by identifying anonymous and named profiles, and make use of customised customer identity-matching policies.
Automatically catalog all products, content and all related metadata to drive machine-learning recommendations.
Monitor digital behaviour to the last detail to gain an understanding of each customer's interests, affinities, and intent.
Drive actions by bringing in attribute and transactional data from any source using industry standard connectors, ETL, or API and JavaScript integrations.
GET AI-DRIVEN OPTIMISATION
Use real-time segmentation and sophisticated AI to deliver contextual experiences that inspire call to action.
Use the power of Einstein to recommend products, content, and more based on each customer's unique preferences.
Use the power of Einstein to align your customer's ideal next step with their interests and present them with the next best action or offer.
Customise, refine, and manage algorithms that power your personalisation strategies.
DRIVE CROSS-CHANNEL ENGAGEMENT
Guide each customer along the most appropriate path and engage with them based on their preferences on the channel of their choice.
Track customer behaviour and trigger personalised recommendations and offers across channels and devices.
Connect online experiences with offline ones, such as interactions with call center agents and in-store associates.
Deliver a connected experience to customers with consistent, relevant, and timely communications across channels.
DO TESTING AND ANALYSIS
A/B test algorithms and experiences to optimise and improve key metrics such as conversions, clickthroughs, revenues, and more.
Define key goals for your campaigns such as sign-ups, purchase and downloads. And analyse your results to drive improvement.
Effortlessly segment your users and compare engagement levels between audiences.
Slice and dice all of the data collected in Interaction Studio, or apply machine learning models and simulations using the data science workbench.
Datorama
EMPOWER EVERY ROLE
Get access to cross-channel analytics and insights and drive ROI and growth.
Augment leads and conversions and grow you pipeline with unified reporting and analytics across your interactions such as ads, email, social channels, website and CRM.
Do away with manual reporting and utilize the power of AI driven analytics to drive growth. Deliver scalable and customised solutions in a agile framwork and maximise ROI.
Optimise the value of your content across channels, sites, and devices with native reporting and insights for your customers and teams.
CENTRALISE YOUR DATA
Utilise the comprehensive marketing-centric API library to integrate your data across platforms and content such as social, search, video, web analytics, CRM, and email.
With access to thousands of marketing tools, get the flexibility to connect to any data source.
Automatically map all your fields into a consistent classification with dynamic data modeling so you can focus on insights.
Get complete control of all your marketing data in real time with AI and automation, as it changes over time, regardless of where the data is or it's format.
VISUALISE AI INSIGHTS
With stunning visual insights, know what's working and what's not across all your campaigns. Get actionable day-to-day recommendations to stay on top of your KPIs.
Convert countless hours of analysis into minutes with automated regression modelling and statistical analysis.
REPORT ACROSS CHANNELS
Visualise KPIs, trends and analysis in depth, and filter results for platforms like Google Analytics, Facebook, Adwords, and more.
Monitor and enhance every investment, performance, and goal across your teams, campaigns, and channels with a 24/7 interactive campaign reporting experience.
Deliver custom dashboards and reports to each stakeholder across email, social, advertising, and more and empower your teams and partners to make smarter decisions.
COLLABORATE WITH AGILITY
Drive ROI with real-time actions to modify campaigns and budgets across advertising channels.
Integrate your chat platform with your dashboards to enable teams to collaborate on analysis and decision-making.
Measure your progress against goals by putting every performance in context. Get automated predictions on goals, and get recommendations on next steps to achieve the best goals.
Share dashboards, insights, and reports with clicks, instantly or scheduled.
Pardot
AUTOMATE YOUR MARKETING
Automate outbound emails and trigger marketing tasks custom parameters.
Personalise the customer experience, push targeted offers, and effortlessly nurture email journeys with new information.
Respond to prospects exactly when it matters, discover what's happening between sales calls, and get alerts on recommended actions.
Use in-depth data about prospect activity and drive more relevant conversations.
GENERATE MORE LEADS
Launch stunning, branded landing pages using best-in-class templates and customise content with a powerful visual editor.
Create professional email campaigns, at scale, that deliver results and drive customer engagement.
Integrate SEM and SEO programs to get visibility on the ROI of your campaigns and refine your marketing activity.
CALCULATE MARKETING ROI
Correlate closed leads with marketing efforts and examine campaign success by channel.
Build and save custom views of your data, understand how prospects are engaging with you, and get a 360 view of every customer.
Check the health of your funnel in real time and identify bottlenecks so you can address them.
Share key insights and collaborate with data-driven decisions to continually evolve marketing programs.
With Marketing Cloud you can Build customer relationships for life with a data-first approach. When combined with Slack, work flows and relationships grow. Now you can bring your marketing teams together with the people, partners, and tools that they need to drive the customer experience.
Contact a Certified Salesforce Implementation Partner today to know more about how to harness the power of Marketing Cloud to drive growth for your business.
About Author
Indranil is a technology enthusiast with over 25 years of experience in project management, operations, technology and business development. Indranil has led project teams in egovernance, business process re-engineering, product development and worked with Government and Corporate customers. Indranil truly believes in the power of technology to drive productivity and growth for teams and businesses.
Share this post on: