ZOOM INTEGRATION WITH SALESFORCE APPROACH EXPLAINED BY GIRIKON'S SALESFORCE SUPPORT CONSULTANTS
June 4, 2019

Sourabh Goyal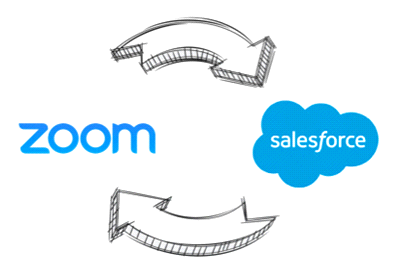 Salesforce Support team are regularly asked questions about Zoom, its capabilities are the benefits once integrated to Salesforce. Earlier this year Salesforce Ventures invested in Zoom's IPO where market analysts are predicting a closer bond between the companies. Salesforce is now working to enable Sales and Service teams using Salesforce to use Zoom's live video including the artificial intelligence engine Einstein. Girikon, a Salesforce Implementation Partner understand the need to be proactive in this space and with the assistance of theirSalesforce Support teamTeam are working closely with existing clients to integrate Salesforce to Zoom with the knowledge that new Salesforce implementations will include this type of integration within the project scope.
In this article Girikon's Salesforce Consultant Sourabh provides us with some further information about Zoom and how it can be integrated with Salesforce.
What is zoom?
Zoom unifies cloud video conferencing, simple online meetings and group messaging. It offers the best video, audio, and wireless screen-sharing experience.
Zoom integration with Salesforce
The Zoom integration with Salesforce will allow you to start scheduling meetings directly within Salesforce. You can quickly set up Zoom meetings with leads, contacts and view your scheduled Zoom meetings.
The following are the basic steps to integrate Zoom into your Salesforce org:
Install Zoom app from the Salesforce AppExchange: First find the Zoom App in the Salesforce AppExchange and select "Get It Now". After that follow all the installation steps.
Configure Zoom app: Configure your Zoom app to connect to your Zoom account and enable desired features. For doing that login to your Zoom admin account and build an app then you will get an "API Key" and "API Secret".
Setup user access to Zoom app: Assign zoom permission sets to the user.
Enable and setup desired Zoom features: In Salesforce open zoom config and fill all the details here.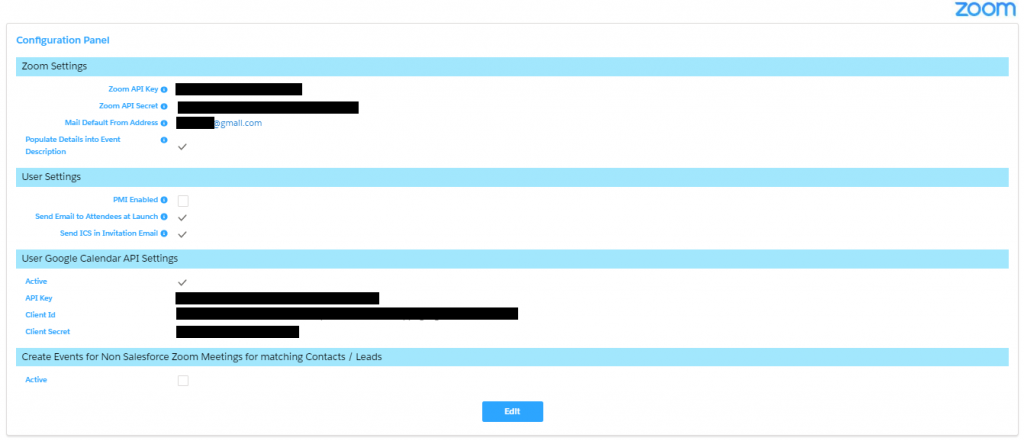 Zoom Settings: In this section fill API Key, API Secret and select mail default from address to set an outbound email for all your meeting invitation emails.
User Settings: User setting is a user level setting. PMI Enabled, by checking the "PMI Enabled", the user will always use PMI (Personal Meeting Number) to schedule or start Instant Meetings (not recommended). Send Email to Attendees at Launch, by checking it, the user will be able to send Email to the attendee after starting the meeting from Lead and Contact. Send ICS in Invitation Email, it adds an ICS (Internet Calendar Scheduling) as the attachment to meeting invitation email.
Use Google Calendar API Setting: Sync your google calendar to your zoom meeting.
Create Events for Non-Salesforce Zoom Meetings for matching Contacts/ Lead: This feature will pull the zoom meetings that are created outside of salesforce into salesforce.
Customize Salesforce Objects to Include Zoom Features: You need to do customization of the following objects' page layouts Event, Lead, Contact and Case.
Scheduling a meeting from Salesforce:
We can schedule a meeting from Salesforce, send invitation through an email to our participants.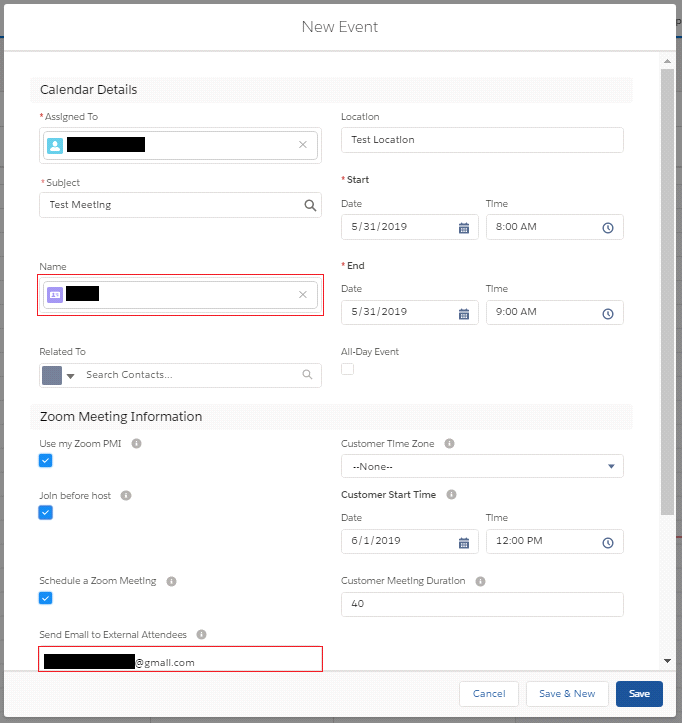 To schedule a zoom meeting, we have to create a calendar event and while creating we can select the contact (from the first red colored highlighted section) and also provide some external email addresses for meeting whose contacts are not present in salesforce (from the second highlighted section). In the zoom meeting information section, we can give permissions to our participants like they can join before host or not and select the date, time and duration for meeting. After doing this when we click on the save button, immediately it sends an email to our participants with all the information. You can see that email in below image: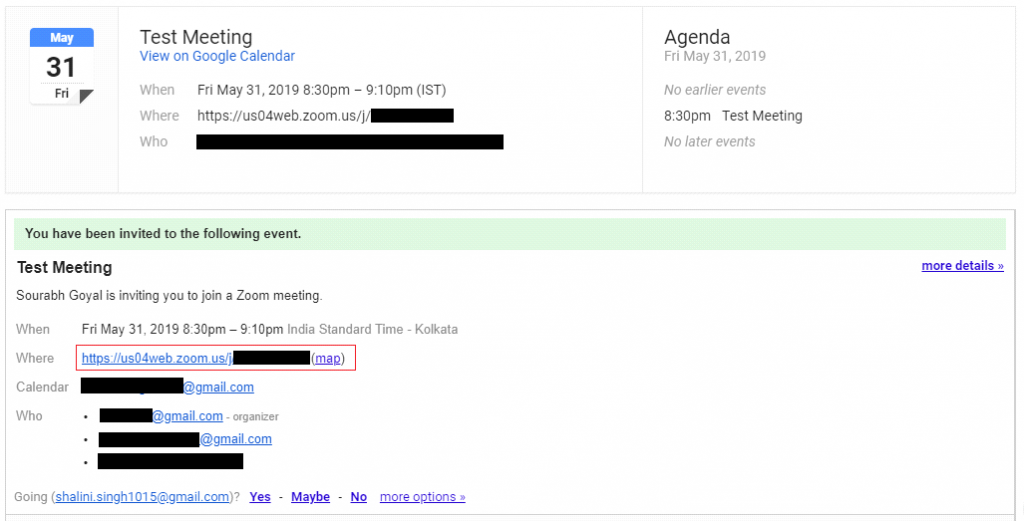 Zoom provides an URL in the email, using that URL a participant can join the meeting.
Zoom Meeting Starts: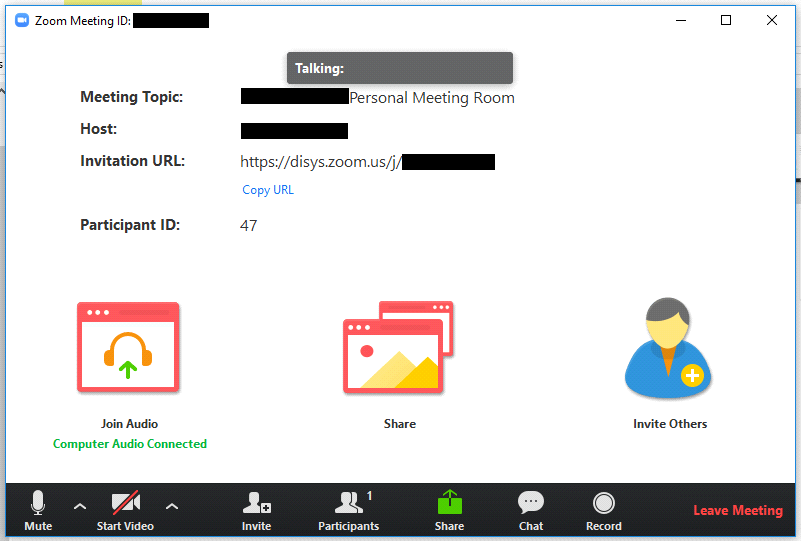 You can see in the above image Zoom provides us so many features like, we can send invitation to the other people during meeting, see the number of participants, screen share, chat with the participants, record the meeting and leave meeting.
Invite: We can send invitation to the other people during meeting through email or phone.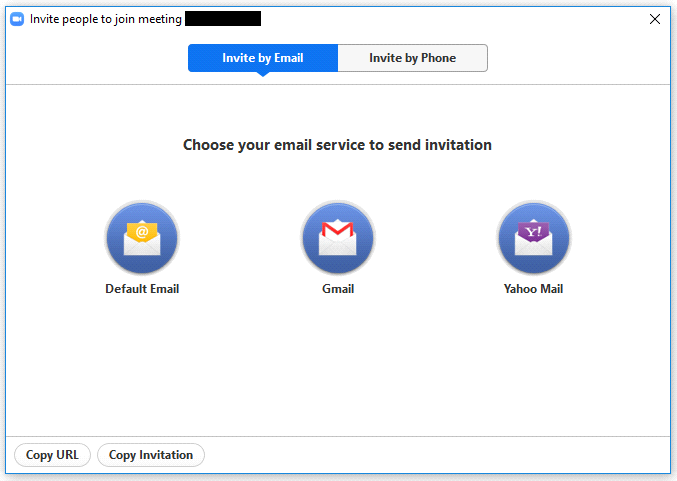 Participants: You can see who are participating in this meeting.
Share: Anyone who is participating in the meeting can share their screen but if at the same time host and one of the participants wants to share their screen then you can do the below settings.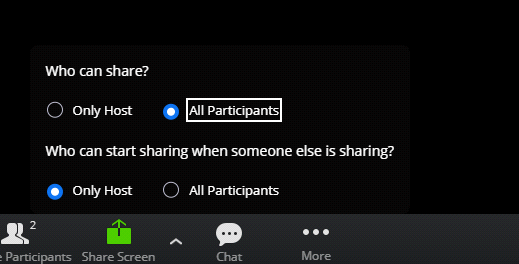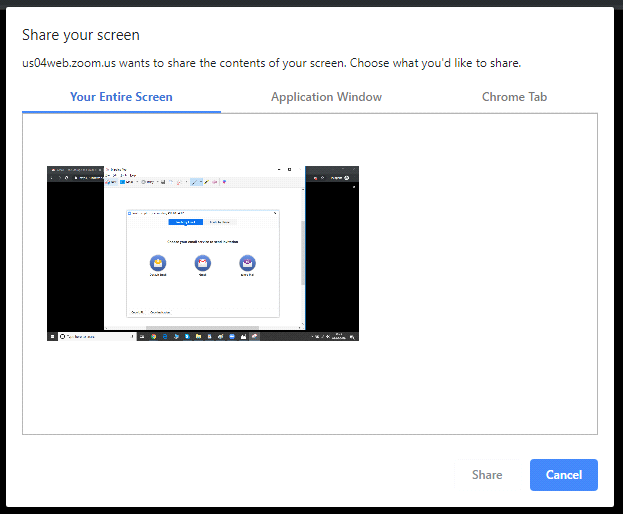 You have option like, you want to share your entire screen, an application window or chrome tap.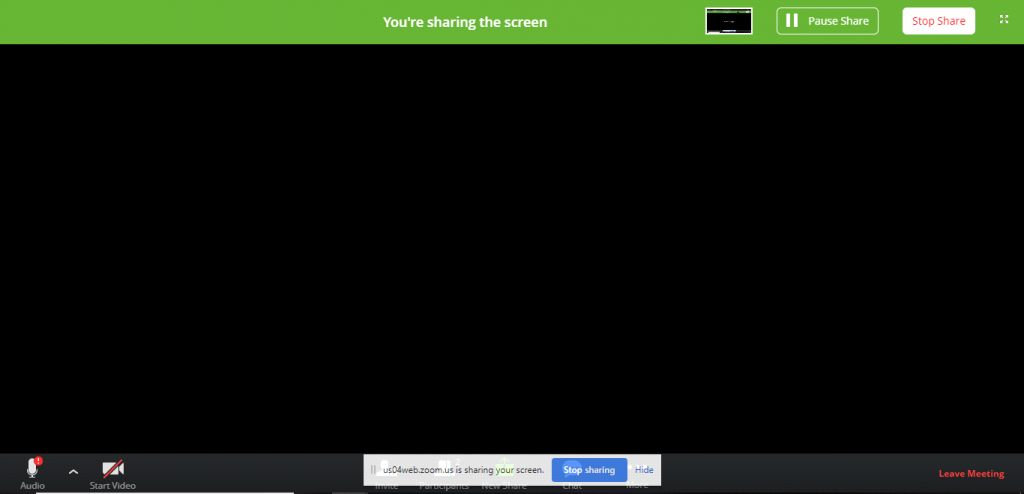 Request Remote Control: Once any participant's screen has been shared in a meeting, you may request to gain control. Simply click on the Options button and select "Request remote control."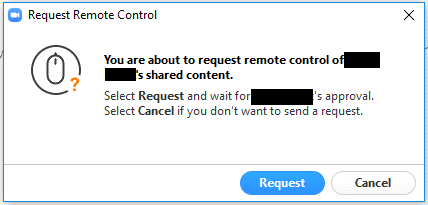 It sends a request to the person who is sharing their screen. If participant accepts you request, then you can control their screen.
Annotate: Meeting participants can annotate on a shared screen as a viewer. Participants can draw and highlight on the screenshare.

Chat: You can chat with other participants within a meeting. It provides two options during chat; you can send a private message to an individual user or you can send a message to everyone.
Record: Click on the "Record" option to record
Benefits of Zoom Meeting:
You can schedule the meeting with any contact or lead in Salesforce.
Host will get a reminder within Salesforce before meeting starts.
Once you have started your meeting and few participants join the meeting, now you want no one new participant can join the meeting so, host have an option of lock the meeting.
Screen share, annotate and request remote control.
About Girikon
Girikon a Salesforce Silver Implementation Partner with offices in the USA, Australia and a development centre in Noida India.
Girikon is a Salesforce Consulting Company and is focussed on quality delivery, global presence and outcome based local approach.
Girikon's agile delivery model has been developed over many years working for many and varied industries and across the globe. Girikon take discovering your business seriously through all phases of the project, we proactively find solutions to your most important problems, and our Certified Salesforce Consultants have the experienced and knowledge to deliver a cost effective and quality outcome.
Girikon's Salesforce Support team take over from the end of the Implementation to ensure you have smooth transition and keep you informed of all new Salesforce features and capabilities to ensure you realise the maximum benefit from the platform.
Our Certified Salesforce Consultants will ensure:
They have the required knowledge and experience to deliver a solution which is fit for purpose and your return on investment is achieved in record time.
Gather all requirements, pain points and prioritise according your needs.
Take the time to understand your business knowing each organisation is unique.
It understands the business culture, technologies and processes to ensure you are making informed business decisions.
About Author
Sourabh Goyal
Sourabh Goyal is currently a Salesforce Consultant at Girikon working for the company for nearly five years. Experienced and Salesforce Certified x 3 with a history in the information technology and services industry, skilled in Salesforce.com, JQuery, SQL, Creative Style Sheets (CSS), Java and HTML graduated from National Academy, Alwar.
Share this post on: