10 Considerations When Selecting The Best Salesforce Implementation Partner
May 17, 2022

Indranil Chakraborty
Salesforce is the world's leading and perhaps the most powerful CRM platform that can turbo charge your digital journey, enhance brand loyalty and engagement, enrich customer experience and streamline your sales processes.
And while Salesforce is a great out of the box solution, that can truly grow your business, hiring the best Salesforce Consultant is one of the single best things you can can do to get the most from your Salesforce platform.
According to an article published in the CIO Magazine in 2018, almost one third of all CRM projects fail miserably. And failure rates have been as high as 70% for some companies. While there could be many reasons for these failures, the one reason that comes out as the most critical one is the wrong selection of a Salesforce Implementation Partner.
Which is why you need to adopt a sound approach in selecting the right Salesforce Partner to help you to maximize utilization of the CRM to its fullest potential and deliver that competitive edge.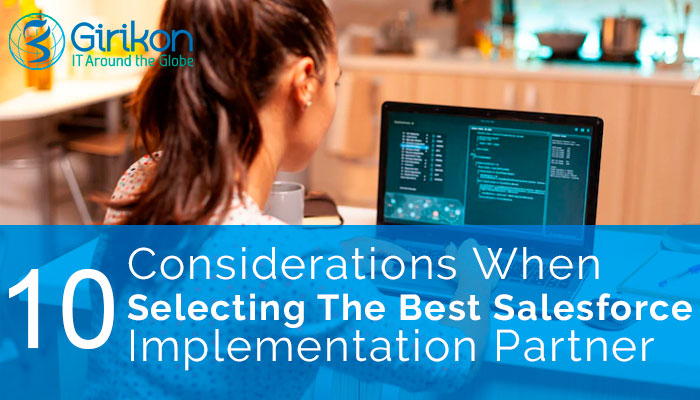 A Salesforce Consulting Partner has the necessary skills, resources and experience you need to transform digitally and grow your business. But on what basis do you choose the best fit one? With hundreds of Salesforce Partners listed on AppExchange, many of them with great reviews and ratings, it can be confusing to select the one that suits your needs best.
Here we have listed out 10 points to consider while hiring an ideal Salesforce Implementation Partner.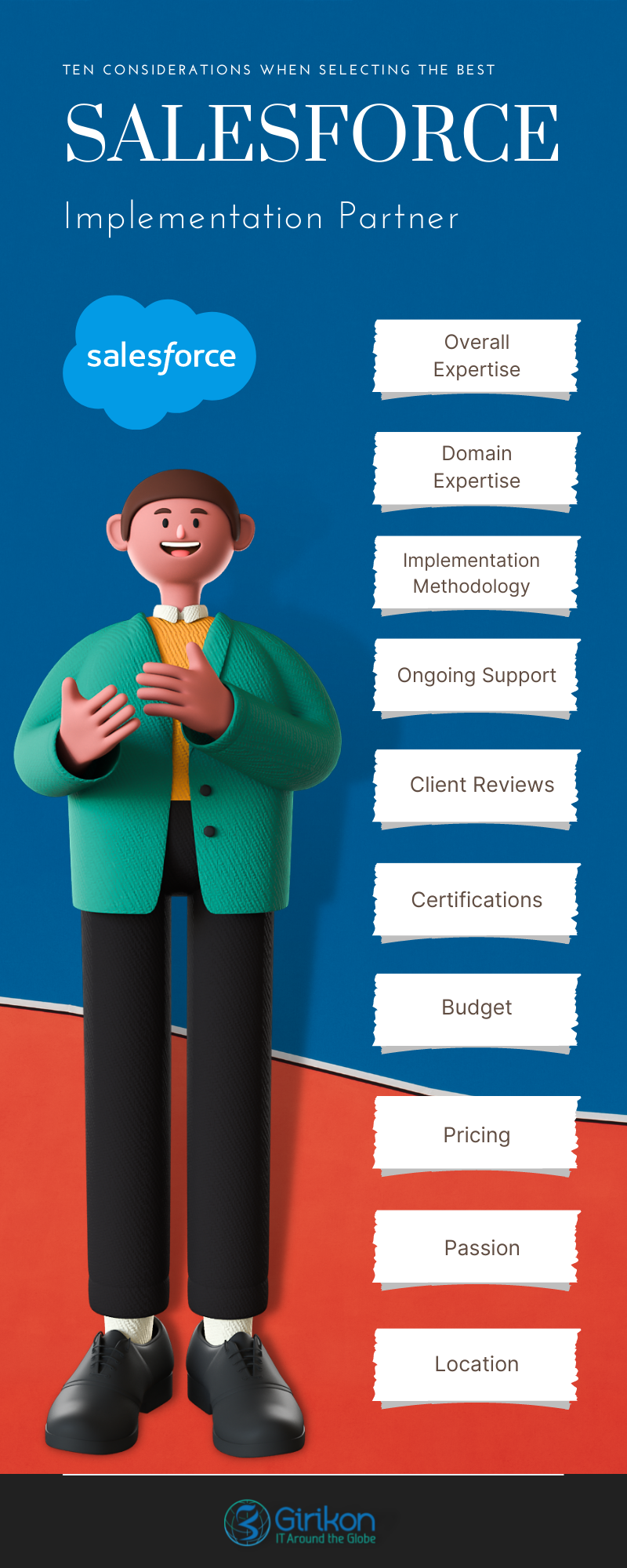 1. Overall Expertise
It is a given that you will hire a Salesforce Consulting Partner with expertise in Salesforce but there are other equally important skills that can help ensure you are able to achieve the goals and objectives you have set out to achieve through your Salesforce deployment.
Sales – In all likelihood your Salesforce Consulting Partner will help you to implement automation to augment your sales processes. It is therefore important that your prospective partner has resources with adequate sales experience on their team. Consultants with relevant experience in sales can provide crucial, real-world insight and guidance on sales strategies that may work for your business.
Project Management – The approach integrated within the Salesforce platform are not just online practices, they have real impact across departments and teams. A qualified Salesforce consulting partner has good project management experience and can ensure that your Salesforce implementation has real word impact both online and offline. They have extensive project experience running through multiple phases and iterations while ensuring the project stays on course, and delivery is executed as per schedule, and post-implementation training is imparted successfully. The best Salesforce Implementation Partners have certified Project Management Professionals on their payroll to deliver on those objectives.
Related Technologies – One of the key reasons why businesses hire Salesforce consultants is to help with integrations with other lines of business. It is important that any partner you select has experience across an assortment of technologies that Salesforce integrates with, from custom apps to out of the box software and other cloud platforms. The question to ask yourself before hiring a partner would be: Can they perfectly deploy and integrate Salesforce solutions into my holistic technology roadmap?
2. Domain Expertise
To get the maximum out of your Salesforce implementation, it is absolutely critical that you select a partner who has adequate understanding of your industry domain, has successfully delivered similar projects in the past and can handle your unique business requirements efficiently. Your organization is unique, and it will bring unique challenges and new learning experiences as you go digital. This variety allows your Salesforce implementation partner, to develop the most effective and customized solutions tailored for your specific domain. Domain expertise will lead to faster challenge resolution, innovative solution design and automation, leading to faster implementation and better results.
3. Implementation Methodology
If you want to work with the best Salesforce Consulting Partner, you must understand the partner's implementation approach. Incremental delivery based on an Agile framework is one of the best practices as it allows for phase wise deployment and iterations, which help ensure that your project stays aligned with your business goals and prevents any major deviations. This incremental approach also ensures tight collaboration between your teams and the Salesforce consultants, which guarantees better results. Find out from your prospective partner for specific details such as what methodology they would adopt in your case, what tools they would use for integration, prototyping and flowcharting. If they can't provide specific answers, it's time to look elsewhere.
4. Ongoing Support
Before you hire a Salesforce consultant, talk to them about what happens once implementation is complete. Understand in detail how they plan to support your business going forward. It's best to work with a partner who has real-time awareness of Salesforce updates so that your business can stay up to date and stay ahead of the competition. Ensure that the prospective partner will not de-prioritize your support needs over the needs of other larger customers. They should be available for you whenever you need them. Asses what support structure they have. Do they offer 24×7 support? What is the level of involvement are they willing to offer? Match the answers with your needs.
5. Client Reviews
Customer reviews are a great way to assess a Salesforce implementation partner's execution ability and performance in the marketplace. Investigate deeper into positive as well as negative comments posted for prospective partners and understand what customers have to say. Lookout for feedback on their efficiency, domain expertise, timelines, engagement level, delivery, number of projects successfully completed, certifications, training programs, support programs etc. A study of the reviews will give you insights on what to expect from your prospective partner.
6. Certifications
Most of the Salesforce Implementation partners have certified consultants on their payroll. Salesforce has many certifications, and you need to know how many of these certifications each consultant holds. Just like you want a Salesforce implementation partner with a wide variety of customers and projects, you also want them to have consultants holding multiple certifications. Make sure that your partner has both Admin and developer certifications at a minimum.
Certified consultants need to be up to date with their skills by clearing release exams, so you can be sure that they are well versed with the latest tools and resources.
7. Budget
When talking to a prospective partner, it's important to discuss your budget from day one, so you can identify partners that are within your budget bandwidth. Having said that, you don't just need to agree on a range and choose the first partner that falls within that range. As is true with many things, expensive choices are not always the best. And hiring the cheapest one isn't the wisest decision either. Develop an RFP and compare their offerings.
One of the reliable ways to estimate the cost of implementation is deriving the Total Cost of Ownership (TCO), which factors in the cost of the Salesforce licenses, services, costs of internal resources, and long-term maintenance and support costs. Choose the partner with whom you are getting the highest value for your TCO.
8. Pricing
You may think pricing comes under the budget umbrella, but in reality, it differs. Ensure that you have a clear understanding of the "per man hour" pricing based invoices that will come through to your inbox. These three questions will help you to establish clarity of how to get the most out of your investment
Does the prospective partner charge any extra fees over and above the stated hourly rates?
Do they charge for initial discussion meetings, discovery sessions, initial presentations, etc?
Do they have any onboarding charges?
If the answer to any of the above questions is yes, it will not be a figure you can ignore. Be aware of what's part of the agreement and it is always better to ask these questions upfront, than to get surprised later.
9. Passion
Passion can be hard to quantify, but it's worth looking at. Since Salesforce is going to be an integral part of your business, your team members would be spending a considerable amount of time working with the consultants you eventually hire. You might want to make sure you're doing business with an enterprise that is passionate about the technology offered by the Salesforce platform and also about your success.
10. Location
Although technology has blurred borders, it might be wise to work with a Salesforce Implementation Partner that is geographically close to you. Not only will this eliminate the challenges of working synchronously across time zones, but it will give your teams the opportunity to work more closely with the partner consultants. There is nothing better that face-to-face communication, even if done only on a quarterly basis. It just allows your team members to feel more comfortable and can facilitate better involvement and alignment amongst teams.
Identifying the right Salesforce Implementation Partner can be challenging. There are many out there in the marketplace, and it can be difficult to figure out the best choice for your business. Keeping these 9 considerations listed above in mind during your search can go a long way to ensuring that you find the best fit partner for your business
Girikon is a Gold Certified Salesforce Implementation Partner that provides expert guidance and support throughout the client's growth journey. Get in touch with one of our experts today to know more about how we can help you.
About Author
Indranil is a technology enthusiast with over 25 years of experience in project management, operations, technology and business development. Indranil has led project teams in egovernance, business process re-engineering, product development and worked with Government and Corporate customers. Indranil truly believes in the power of technology to drive productivity and growth for teams and businesses.
Share this post on: