3 Reasons Why Every Company Needs a Dedicated Salesforce Integration User
May 19, 2022

Indranil Chakraborty
Today, more and more businesses are driving productivity by capitalizing the value of integrating AppExchange Apps and other products and tools with their in-house Salesforce instance. Which means that most Salesforce Administrators today are managing an entire ecosystem of Salesforce which includes the core Salesforce instance as well as a family of 3rd party products and tools
By integrating Salesforce with other applications, businesses can now tap into vast resources and gain access to enhanced operational visibility.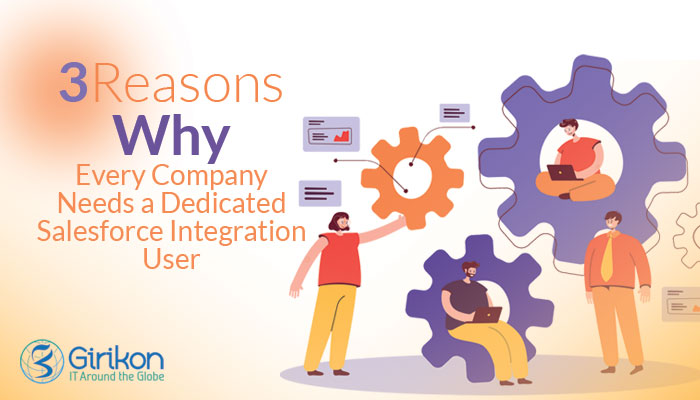 Let's look at some of the benefits of integration with Salesforce.
· Offers all-in-one access to stay logged to a single system. Increased work efficiency because users don't have to switch across systems.
· Enhanced productivity by automating the integration and eliminating duplicate data
· Get a unified view from a single data source to drive smart decision making
· Boost collaboration and information sharing across teams by integrating two systems
· Automate workflows in a virtually code less environment
· Get access to data from all integrated systems effortlessly.
Before delving into the benefits of a Dedicated Salesforce Integration user, lets understand some of the basics of Salesforce Integration with external apps.
Salesforce Integration Processes
In order to integrate your Salesforce CRM with external applications that are suitable for your business, you would need a robust and easy to use integration platform that facilitates the seamless exchange of data between the two.
There are two primary methods to implement Salesforce integration.
App-based Salesforce Integration
As the name suggests, App-based Salesforce integration is executed with the help of dedicated integration app. These apps allow Salesforce users and Administrators to integrate the data across two apps and provides a unified consolidated platform to deliver secure, trusted and accessible data to fast-track business decisions.
Code-based Salesforce Integration
Besides using a dedicated app, integration of Salesforce with external systems can also be carried out by using a programming language. Salesforce's proprietary language Apex is most commonly used to write algos for integration. Apex has a Java like syntax and comes with several benefits:
· Built-in support to Salesforce Lightning Platform
· Simple to use, test and debug
· Hosted and controlled by the Lightning Platform
The AppExchange is a comprehensive bouquet of apps vetted by Salesforce, so you can rest assured that when you decide to expand and boost your organization's value, you are not compromising on the security of your Salesforce installation. Having said that, there are inherent challenges of integrating any external tools to your Salesforce implementation. Most importantly – How do you ensure all of your integrations are robust and secure?
The easiest way to address this challenge is to have a Dedicated Salesforce Integration User. Not only will this empower you to manage 3rd party app integrations more easily, but also boost productivity by saving you time.
So what exactly is a Salesforce Integration User?
An Integration User can be the perfect ally for a Salesforce Administrator. It is a dedicated full Salesforce license that has a custom profile, and is used for any 3rd party integration, like data augmentation, analytics and reporting, marketing automation, or any custom API based work. An Integration User is a more secure way to move data into and out of your Salesforce implementation without having to rely on an existing user's license.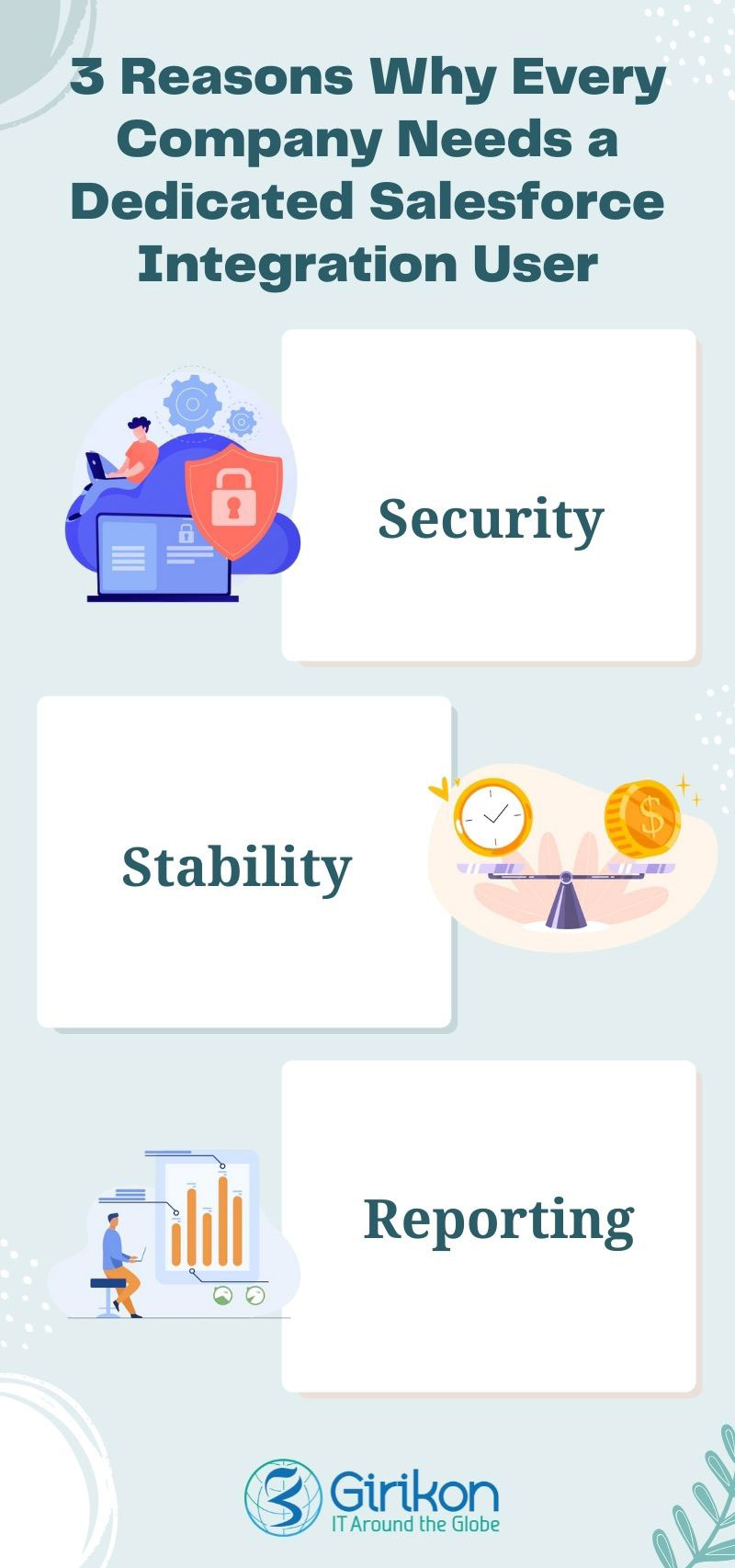 Security
No Integration ever needs full Admin level access. NEVER!
In many organizations, Salesforce integrations are accessed via the Salesforce Administrator personal license. While this may work for AppExchange integrations, not all 3rd party integrations are done through the AppExchange and these external apps have not gone through a stringent security audit.
Usually, you clone a "standard user" profile to create a Dedicated Integration user instead of using a standard Salesforce Admin user for performing the integration functions. The Integration User is more secure as it will not have the access to the privileges of the Salesforce Administrator user. By giving an Integration System Administrator privileges, you would be giving them access to modify or deletes records or users, reset passwords and add or modify permissions, things that you don't want to do.
It's not about trust, it's about minimizing the amount of exposure and the amount of risk that you have.
Also, in the absence of a Dedicated Integration User, it can be very challenging to determine how and why a record was updated. Admins perform batch updates on records as a part of regular maintenance activities. Those updates often trigger integrations to also check and update the records. If a particular record is updated in a way that requires additional investigation to determine what went wrong, it is almost impossible to establish what was done by the Admin and what was done by integration associated with that Admin user.
Stability
A Dedicated Integration User simplifies integration and saves time. As an example deactivating users is a time consuming activity for a Salesforce Administrator in the absence of a Dedicated Integration User.
When an employee, whose Salesforce license is being used for any 3rd party app integration leaves the organization or changes his/her password, it will disrupt any integration associated with that license. And it can be a while before someone realizes the integration has been interrupted.
This means that every time an employee who is associated with a Salesforce user licence is leaving the organization, you will need to check if there are any integrations associated with that license and then migrate those integrations to another user's license. Clearly this only complicates the issue rather than mitigating it. The same also applies to integrations that are attached to the Salesforce Administrator license. Every time you update the Salesforce Admin password, you also need to update every integration attached to the Salesforce Admin license.
Reporting
Another benefit of having a Dedicated Integration User is that is enhances data integrity and simplifies reporting.
On many occasions while creating reports, you may want to exclude automated systems to provide focussed results. With a Dedicated Integration User, it's easy to filter and identify what changes have been made by external systems. This can come in handy when wanting to identify how many activities were created by actual team members rather than also including automated records and activities like created by marketing automation.
The upfront costs of an extra license and the effort required to set up a Dedicated Integration User can seem daunting. However, in the long run, it'll make your life much easier and, in turn, save time and money for your business.
Want to know more about how to set up a Dedicated Salesforce Integration User? Want to know more about why you need it? Talk to a Salesforce Consultant today!
About Author
Indranil is a technology enthusiast with over 25 years of experience in project management, operations, technology and business development. Indranil has led project teams in egovernance, business process re-engineering, product development and worked with Government and Corporate customers. Indranil truly believes in the power of technology to drive productivity and growth for teams and businesses.
Share this post on: