Bottom-Line Benefits of Switching to Salesforce Lightning
January 17, 2020

Jaya Ghosh
Salesforce – a cloud-based CRM has been reigning the customer relationship management space over the past 18 years. This robust CRM has revolutionized the way organizations optimize their processes to provide superior customer service by empowering team members. This could be attributed to the numerous evolutions which this platform has undergone over the years to provide users with desired features and functionalities. One of the next steps involved in the platform's evolution is 'Salesforce Lightning'. A component based-framework, Salesforce lightning offers a responsive interface that can provide businesses with a great user experience, which in turn can help them close more sales deals.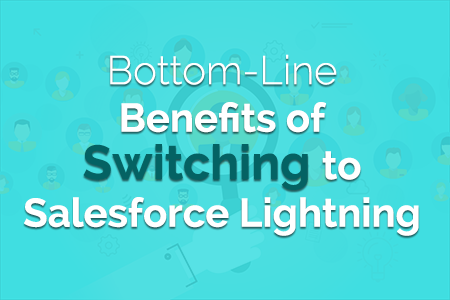 What is Salesforce Lightning Experience?
The new Lightning Experience launched recently by Salesforce helps businesses improve their productivity. Built using modern App technology, this modern, intelligent and fast user interface provides users with greater flexibility, custom functionality and tailored processes designed to meet specific user needs. The improved desktop application combines Lightning app builder, components, Lightning designing system (LDS) for creating enterprise applications.
With Salesforce Lightning, Salesforce data becomes more powerful, useful and easily accessible. With this, users can customize tools, layouts, applications, dashboards, widgets, etc. and access information most important to them. Since Lightning provides a more responsive interface, it's more suitable for mobile applications. This is especially beneficial for Sales reps who use their mobiles to research potential customers, connect with them socially or gather any important details regarding their customers.
Benefits of Switching to Salesforce Lightning?
Outlined below are some of the features and the benefits of Salesforce lightning:
Intelligent and Customizable Home Page: Salesforce lightning allows organizations to customize their homepage. This means businesses can customize the homepage to display the information and work required right upon login, making them all the more efficient. Salesforce lightning is made up of two parts that add to its intelligence. While the assistant part keeps users up to date with tasks that need to be accomplished on a particular day, the performance chart showcases information based on opportunity.
Smarter Views: Featuring smarter analytics, out-of-the-box views remembers the most commonly accessed views by different users. This means that information is more visually and dynamically displayed.
Better UI: The new interface offered by Salesforce lightning is smart, efficient and modern. This allows all Salesforce users to enjoy a seamless performance across different devices i.e. desktop, mobile, tablet, etc. Apart from this, the new interface helps streamline processes and make workflows more intuitive.
Dashboards Are No Longer Restricted to three Columns: Allowing dashboards to have four columns instead of three had been one of the most customers requested feature and the good news is it is here. While dashboards can now have more than three components, these components are animated and are also refreshed instantly. This not just improves user experience but also provides value to users looking to make data-driven decisions at a glance.
Drag and Drop Status Change: The drag and drop components allow for quick and easy navigation and customization. Every opportunity can be moved between stages with the new 'Pipeline Board' by dragging and then dropping. With this, sales forecasts will be updated automatically and sales reps will have an easy understanding of the stage every opportunity is, as well as the target metrics.
The Bottom Line:
To understand what makes Salesforce lightning experience so special, it's important to invest some time in understanding the possibilities. Lightning allows users to create a user experience that enhances workflow and efficiency, makes jobs easier and ultimately transforms your business. Today, there is no dearth of organizations that can help you in the implementation of Salesforce Lightning. For availing implementation services in Australia, you must get in touch with a reliable and experienced Salesforce Consulting partner in Australia.
About Author
Jaya Ghosh
Jaya is a content marketing professional with more than 10 years of experience into technical writing, creative content writing and digital content development. Her decade long experience lends her the ability to create content for multiple channels and across different technology verticals.
Share this post on: