How Salesforce Marketing Cloud Resolves Critical Email Marketing Challenges Faced by Businesses?
January 17, 2020

Jaya Ghosh
In today's digital era, marketers are investing in digital strategies to promote their businesses. However, with dozens of tools and platforms at their disposal, marketers need to figure out ways to combine different marketing tactics to craft a solid digital strategy that ensures revenue keeps flowing in. Whatsoever digital strategies businesses may invest in, email marketing will continue to remain the cornerstone of every strategy. In fact, email marketing is usually ranked as one of the most important contributors to an effective digital strategy among all other marketing techniques. However, organizations leveraging email marketing for promoting their businesses are facing unique concerns, especially due to advancement in technology that offers new ways to reach audiences.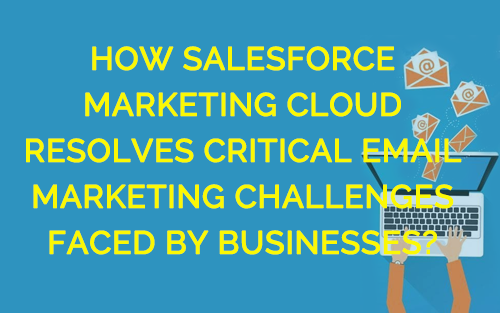 This is where Salesforces' marketing cloud comes to rescue. Encompassing a wide and incredible array of tools, Salesforces' marketing cloud solution offers marketers with a client-centric solution that provides them with a 360-degree view of every individual customer interaction. Businesses looking to make the most of their email marketing campaigns must, therefore, look to partner with an experienced Salesforce consulting company. Let's take a quick look at how the world's number one CRM alleviates Email marketing challenges faced by businesses:
Growing Subscriber Base: The outcomes of efforts and time invested in email marketing largely depend on how effectively marketers grow a subscriber base. Consequently, marketers engage in various ways to grow their email lists. Marketers can leverage Advertising Studio for attracting new subscribers by building Facebook Lookalike Audiences. They do this by using CRM data about their current customers to locate people with similar traits such as (age, gender), marital status, interests, occupation, etc. Another way of discovering new audiences is by leveraging Salesforce Data Studio. By eliminating intermediaries during the process of buying audience data, this data-sharing platform creates a safe environment for organizations to contact data owners directly. By tapping into these email lists that conform with their business, marketers can grow their subscriber base.
Track Email Performance: The job of a marketer doesn't end with making efforts for growing a subscriber base or sharing the right messages to the right customers. To succeed, businesses must track their email marketing KPI's and draw actionable insights about campaign effectiveness to adjust their marketing strategy. The Email Studio feature in Salesforce has a tracking bar that opens up an analytics dashboard for all the emails that are being sent. This helps marketers view crucial email marketing KPI's, list of recipients who didn't open the email, etc. so that they can target each one of them specifically rather than bothering all the subscribers.
Personalize Messages: While sending bulk emails are a time-effective way of doing email-marketing, businesses risk having their emails unopened in their mailboxes. The success of an email marketing campaign lies in understanding their preferences, behavior, interest, etc. to tailor the communication accordingly. Great ways of doing this are email personalization and customer segmentation. Salesforces' email studio has Data extensions that act as a customer database and is spread out in the form of tables. Apart from this, Data extensions can be used to store specific types of customer data by customizing it. By applying filters to this data, marketers can build customer segments for email campaigns.
Quick Wrap-up:
Businesses dealing with critical email marketing challenges such as growing a subscriber base, tracking campaign results. Improving the effectiveness of emails, Salesforce marketing cloud has proved to be a blessing in disguise. It has indeed become a robust tool, which has paved the way for successful email marketing campaigns for marketers. As a business based out in Australia, you must get in touch with a reliable Salesforce partner in Melbourne that can ensure the success of your email marketing campaign.
About Author
Jaya Ghosh
Jaya is a content marketing professional with more than 10 years of experience into technical writing, creative content writing and digital content development. Her decade long experience lends her the ability to create content for multiple channels and across different technology verticals.
Share this post on: