Ensure Business Efficiency with Access to Quick and Secure Data While Working Remotely?
August 12, 2021

Jaya Ghosh
The global Covid-19 pandemic has forced employees to work remotely. Everything from routine office activities to various management processes requires managing remotely. However, achieving operational efficiency and productivity while working remotely requires uninterrupted access to essential data and documents, which makes communication and collaboration better in real-time.
Salesforce specializes in cloud-powered customer relationship management (CRM), allowing businesses to adopt cloud-based technology and better connect with partners and prospects. Being a Software as a Service (SaaS) cloud-based platform, it is an easily accessible platform and ensures constant business connectivity by application usage and mobility. Apart from this, Salesforce helps team members to stay in touch with business customers and the relevant team members remotely.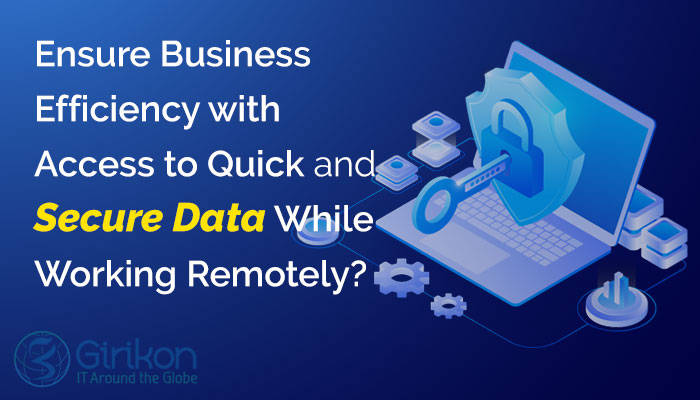 Unique features like Chatter pave the way for effective communication between team members by creating groups to share information. This simplifies the prioritization and scheduling of tasks to shift focus on lead nurturing and closing sales faster. This is an excellent solution for organisations that wish to have seamless communication with different teams.
Staying in touch with prospects and customers while working remotely is critical to ensure business continuity and continual customer support services. To stay connected, access to customer data is the key and enables effective planning for customer accounts. Salesforce provides a 360-degree view of the customer at the click of a button. This means that all interactions and engagements made with prospects and customers are available remotely, thus delivering a better customer experience.
Salesforce offers a perfect solution for remote working settings as local servers are no longer required. All the information is safely stored in the cloud and is easily accessible from anywhere and anytime. Besides ensuring security, business teams can stay up to date with accounts and customers, irrespective of the location.
While working remotely, time management at every stage is essential. With access to data, organizations can get assistance with prioritisation, planning, and time management. Salesforce can also organize tasks for different accounts using its in-built calendar tools for planning schedules of a day, week, month, or year. This helps organisations to stay attuned throughout the lead nurturing and customer journey.
As a reputed Salesforce implementation partner, Girikon partners with its customers to understand their digital vision and where they are at their business maturity stage. As a strategic Salesforce partner, Girikon can streamline the implementation of Salesforce to enable users to easily access crucial data required to manage business operations while working remotely, thus driving efficiency and productivity even while on the go. Girikon enables organizations to grow their business by ensuring process excellence and digital transformation through secure access to data.
As cloud-based online CRM software, Salesforce allows businesses to accomplish multiple tasks remotely. By incorporating Salesforce, organizations have realized visible and measurable business growth and transformation.
About Author
Jaya is a content marketing professional with more than 10 years of experience into technical writing, creative content writing and digital content development. Her decade long experience lends her the ability to create content for multiple channels and across different technology verticals.
Share this post on: