Digital Enablement: Empowering Organizations to Better Connect with their Customers
A new era of digital transformation has descended on the world, the need to be better connected has become more established that it has significantly impacted the way all business' function. In fact, organizations across the globe are undertaking large-scale digital transformation to transition into scalable, agile, and future-ready entities. However, to enable digital transformation, consumption of digital assets is required before implementing intelligent processes, maximizing operational efficiency, monetizing internal resources while augmenting customer experience.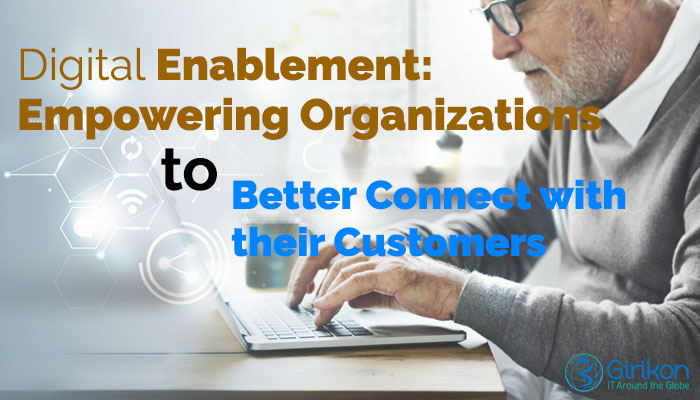 Today, with huge amounts of data generated day-to-day, there arises a need for efficient data management and an intelligent way to use it. To draw the maximum value out of the amount of data generated, organizations should focus on maintaining data quality and integrity as data is insignificant without integrity. Apart from this, organizations also deal with redundant and time-consuming manual processes that may lead to customer dissatisfaction and lower business productivity. To ensure customer satisfaction while generating more significant revenue, organizations need focus on process excellence while reducing manual processes.
This is where the need to enable digital transformation using digital business platforms and solutions arises. So, what is digital enablement? Digital enablement is about influencing the digital transformation journey of an organization by digitalizing its platform and processes. It is not just about digitizing the existing processes; instead, it is more about knowing the why, when, and how of business activities and focus on ways to continuously improve them.
To make digital enablement possible, powerful technologies such as the cloud, internet of things, artificial intelligence, etc., should be leveraged by enterprises to empower their customers while connecting and communicating with their business partners in a better way. While these technologies might help drive digital transformation, implementing these technologies may be impossible without the right strategy in place. This is because digital transformation is a complex process that requires a roadmap to implement.
As a reputed provider of Salesforce consulting services, Girikon partners with its clients to understand their digital vision and what stage of business maturity. As a strategic partner of Salesforce, Girikon provides consulting, implementation, and digital enablement services to accelerate the digital transformation journey of their clients' using the Salesforce customer 360-degree platform. Girikon extends its' Salesforce capabilities to fulfil the unique business needs of its clients by developing tailored applications leveraging the platform's in-built capabilities.
By helping enterprises deploy Salesforce for automating and managing their Sales, marketing, and customer service functions, Girikon helps drive digital transformation and innovation. Girikon enables organizations to transform the way they engage, retain, and grow their business by integrating Salesforce with other leading digital technology and legacy platforms.
By Partnering with Girikon, organizations can realize the following benefits:
Transform Customer Experience: Digital transformation focuses on using cutting-edge technology to improve customer experience. Companies at the forefront of the digital revolution will earn much more trust, respect, and responsibility from their customers.
Data-driven Insights: One of the most incredible benefits of digitalization is the ability to gather and analyse data gained during digital marketing efforts. By using these insights, businesses can optimize their processes and strategies for better results. Data-driven insights can be leveraged to understand customer behaviour and preferences, thereby empowering organizations to provide customers with relevant, personalized, and real-time services.
Collaboration: For a massive company-wide collaboration to occur, everything from processes and strategies to the core structure and company culture should be addressed. For a successful transition, strong communication is required. This encourages collaboration across departments.
Consolidate Operations and Processes: Digital transformation doesn't just bring the workforce together; rather, it consolidates the entire architecture. This enables organizations to connect with their target audience and fulfil their needs.
The Bottom Line:
Digital transformation enabled by robust technology solutions and platforms has become the pressing need of the hour for businesses to sustain in a hyper-competitive business and technology landscape. Digitalization will empower organizations to respond quickly to market trends and deliver better customer service. In a nutshell, businesses that embrace and invest in their digital transformation will thrive as staying outside is no longer a liberty. So, if you wish to transition smoothly through your digital transformation journey, feel free to get in touch with team Girikon who will design the right digital enablement strategy for your business.
About Author
Jaya is a content marketing professional with more than 10 years of experience into technical writing, creative content writing and digital content development. Her decade long experience lends her the ability to create content for multiple channels and across different technology verticals.
Share this post on: