Get up and Going on Salesforce with a Structured Implementation Approach
November 23, 2020

Jaya Ghosh
No matter how big or small your organization is, it's extremely important to maintain your brand value and remain competitive. The best way maintain or improve your reputation is to keep your customers satisfied and happy. A robust customer relationship management software like Salesforce is the perfect go-to solution that can help you in providing services that exceed the expectations of your customers. As a leading cloud-based and most powerful CRM software, Salesforce not just manages your customer relationship but can also provide end-to-end support for all your business requirements.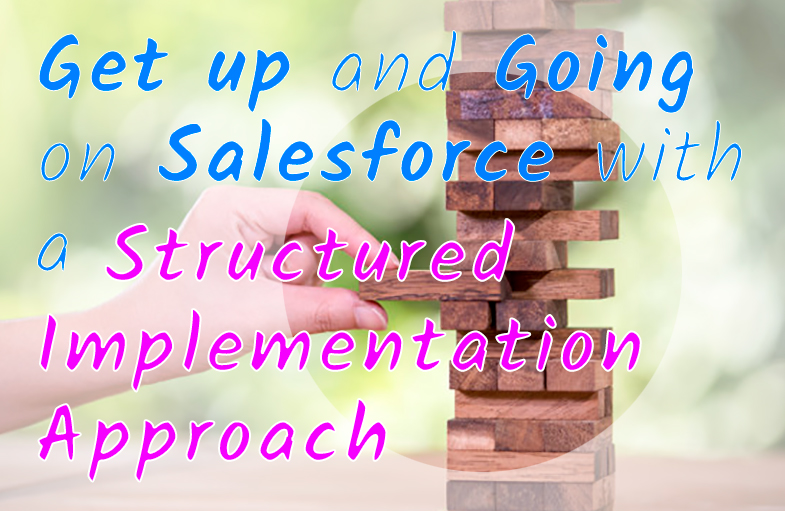 Salesforce offers its customers an innovative software-as-a-service solution that allows it to be accessible from anywhere. The highly flexible Salesforce CRM is completely customizable and can be tailored as per the business needs of an organization. However, Salesforce implementation can be overwhelming and requires proper planning, commitment, dedication and sponsorship from the executive team. While you might think of implementing Salesforce CRM on your own, you must defer from doing so unless your company has the necessary expertise and resources to manage a complex implementation. In fact, handling implementations internally without expertise can result in a faulty implementation and it isn't a risk worth taking.
You must thus consider seeking professional help from an experienced Salesforce Partner who follows a structured implementation approach that helps in hastening the implementation process. Implementations that are performed with a well-thought-out and structured framework, are more likely to succeed resulting in faster return-on-investment (ROI). One such experienced and reliable partner is Girikon that delivers the best-in-class solutions to its customers by leveraging the Application Implementation Method (AIM) in addition to Project Management methodology.
The overall Implementation strategy followed by the company has been divided into the following five phases:
Pre-planning and Scoping: The scope and other aspects of the project are defined at a granular level by the team members during this phase. Apart from this, metrics to measure the project progress, and the reporting process is also set up by the team members. Basic project milestones and implementation schedules are created during this phase while the company indulges in business process identification, allocating a cross-functional team who can review the current process, identifying pain points, and everything that is required to back the process in the new environment.
Design Phase: During this stage, the company's strategy is to use a mix of design documents and prototype demo to develop the core part of the new system. This complete set-up paves way for a methodology that helps in fulfilling the business requirement, establishing design specifications, and assembling them in the system.
Development: Consultants at Girikon design business-specific solutions keeping the operational aspects in mind. The solution provided would envisage the work done to fill the gaps that were identified and would also examine the process changes or the developments that need to be done. Basis the inputs received development is accomplished within the defined technical environment. During this phase system infrastructure is set up and data transformation needs are constructed.
Production: The aforementioned stages are to assure that the system is ready to be shifted into production. So, once the final design and assembling of the components are approved, it is then subjected to unit testing and cross-enterprise testing. During this stage, tuning of the production environment and data conversion is accomplished.
Conclusion:
In a nutshell, it can be inferred that a successful CRM implementation requires a structured implementation approach that can help reduce user stress while generating greater return-on-investment. So, if you too are embarking on your Salesforce implementation journey, make sure you get in touch with one of the best Salesforce Partners like Girikon. The team of consultants at Girikon are certified, experienced, and capable of handling even the most complex of implementations.
About Author
Jaya is a content marketing professional with more than 10 years of experience into technical writing, creative content writing and digital content development. Her decade long experience lends her the ability to create content for multiple channels and across different technology verticals.
Share this post on: