A Guide to How Health Cloud from Salesforce Can Enhance Patient and Member Engagement
June 29, 2022

Indranil Chakraborty
With Health Cloud from Salesforce, care-providing organizations can build stronger patient relationships, and deliver personalised engagement throughout a connected care journey. You can create personalised interaction journeys to augment awareness and reach new patients across channels. Service agents can review cases and tasks with pre-built workflows, while viewing all relevant patient data from multiple systems on a single screen to quickly connect patients to the right care, faster. Care managers can see their assigned patients and prioritise tasks, and review contextual information on each patient by connecting data from multiple sources. With integrated AI you can discover intelligent actionable insights, and create personalised care plans with measurable goals, to drive engagement and review the health timeline to get a complete view of the patient history. Health Cloud also allows you to integrate data from wearable devices, so you can access relevant patient data for taking smart care decisions, and collaborate with the care team seamlessly. You can guide patients to better health outcomes, by delivering smart, personalised engagements, so they can get helpful reminders and complete their assigned tasks with access to resources and their care network from any device for improved adherence.
Step 1: Create Personalized Experiences
Patients want safe access to accurate health information in real-time. Because of the pandemic, consumers expect proactive communication on their preferred channel as well as programs tailored for them from their care provider over the course of treatment.
Without a single view across all interaction touchpoints, providers are unable to engage consumers consistently across their health journey, leading to dissatisfaction and disengagement. This can directly impact trust and retention and have a negative impact on health and business outcomes.
To improve engagement and build trust, providers must create customised communications based on patient information, health status, and personal preferences.
Enhance Acquisition and Retention
The journey starts with attracting the right prospective healthcare consumer. With so many choices available to patients, healthcare organizations need to be smarter about how they attract and retain them.
Access rich audience insights: Use data from multiple sources such as third-party data, email, SMS, and website visits to securely and efficiently reach out to your target audience
Enhance acquisition with similarity grouping: Identify individuals with similar attributes to improve patient loyalty and satisfaction, and reengage inactive ones
Optimize physician relationships: Build and launch professional email campaigns, track engagement, and follow up with speed from a single platform
Personalize Every Engagement
The next step is to personalize the experience. Using contextual messaging and multi-channel communication, providers and payers can consistently reach out to consumers on any device at the right time. Here's how you can personalize interactions with consumers across the entire health journey:
Create tailored journeys: Manage the entire journey — acquisition, enrolment, onboarding, care appointments, and ongoing wellness tips — with an experience built around health needs and preferences.
Power omni-channel conversations: Engage consumers at the right time on any device and channel — email, mobile, advertising, and web — with personalized, relevant content that motivates healthy behaviour. Maintain engagement with consistent and continuous content.
Automate workflows: Use pre-built workflows and templates to enhance employee productivity and create tailored care journeys at scale.
Step 2: Enable Consumers and Build Trust
Many healthcare consumers have to endure disconnected experiences with their care providers and payers. They don't want to navigate through difficult experiences like providing personal information again and again or get handed off to different departments for simple questions.
Healthcare providers have to earn the right to engage with consumers. And this takes consistent, thoughtful interactions that deliver promises, everytime. In this COVID era, consumer trust will be a competitive advantage. Healthcare organizations that engage consumers in meaningful ways will jump ahead of their competitors. A 360-degree view of each healthcare consumer is the foundation that providers need to build that trust.
Consistent experiences are the first step to building trust. First, you need to connect all data systems (such as, EHR, population health, claims, wearable device data) to unlock a 360-degree view with Health Cloud. Application programming interfaces (APIs) connect systems and pull in data to create a single source of truth for all interactions. Here's how it works:
Access data in real-time: View complete consumer data, including appointment behavior, communication preferences, care team members, timelines, and interactions.
Collaborate in real-time: Work across devices to deliver better experiences and outcomes. Seamlessly coordinate relationships across each patient's care plan and team. Deliver easier, faster, and more accurate communication between teams and healthcare consumers.
Make intelligent care decisions: Empower your teams with smarter care management tools so they stay focused on patients and prioritise tasks.
Prevent care gaps: Leverage patient data to facilitate case collaboration, track wellness, and recommend solutions with automated alerts and notifications.
Scale wellness and disease management: Build personalized care plans, automate assessments to collect key information, and manage care progress based on accessible, reliable, and real-time data.
Leverage Analytics Insights
Health Cloud comes with Salesforce's built-in artificial intelligence (AI) that improve patient and member touchpoints. After consolidating data, providers can access real-time data on populations, segment by age group or identify conditions to deliver personalized messaging.
Get next best actions: Use past behaviours to drive recommendations for the best future course of action.
Improve outreach: Identify the likelihood for a patient to miss a care task or health milestone and take proactive action to augment goal achievement.
Optimize referrals: Prioritize referral sources based on historical data, get predictions on the most lucrative and best referral sources, and identify the best path forward.
Connect devices and wearables: Connect medical and wearable device data for real-time visibility into health information. Plan intervention strategies based on this data.
Enhance support services: Publish FAQs and knowledge articles to augment the self-service experience.
Empower Self-Service
Give healthcare consumers the tools they need to take charge of their health journey. With Health Cloud you can create self-service portals with a repository of knowledge articles, assessments, and claims activity, and enables consumers to chat with a live agent.
Deliver awesome digital experiences: Offer training, knowledge articles, events, claims activity, and a gamified experience to encourage task completion and progress tracking.
Provide access to health information: Make it easy for consumers to view and manage their information and receive customer support with secure messaging and case creation.
Create a unified end-to-end experience: Provide appointment reminders, health assessments, and resources to personalize engagements throughout the care journey. Empower healthcare consumers to play an active role in their health journey with self-service communities.
Step 3: Integrate and Scale
There is an urgent need for interoperability in healthcare in today's pandemic reality.
With an API-led approach, providers can connect disparate systems to improve operational efficiencies, increase revenue, reduce costs, and improve experiences while complying with regulatory constraints. Providers can efficiently improve the patient experience, and increase revenue while reducing costs, — freeing up resources to focus on delivering care everywhere.
Integrate onto a Single Platform
Whether it's improving care coordination between inpatient and outpatient services for providers, or accelerating payment authorizations in real-time for payers, multiple data sources and applications can seamlessly work together to exchange information on a single platform.
You can connect disparate systems to Health Cloud, integrating existing technology with APIs to unify provider, patient, and partner information. Here's how:
Use prebuilt integration capabilities: IT teams can use Health Cloud's out-of-the-box connectors and templates to accelerate the development of integrations and APIs that unlock data from existing core systems
Use APIs to accelerate innovation: IT teams can combine data and business logic to create "process APIs."
Enable compliance with new interoperability regulations: IT teams can meet new regulations for patient data-sharing by building the necessary FHIR (fast healthcare interoperability resources) R4 APIs, with the help of prebuilt templates.
Launch new experiences: Use these APIs to quickly launch new web experiences across devices to accelerate delivery saving time and expense.
Build Scalable and Connected Apps
Healthcare providers need to keep pace with consumer needs and demands. Connected customer experiences deliver better business results, driving customer satisfaction. technologies empower IT teams to build and deploy high-quality, secure, compliant applications quickly and at scale.
Ensure HIPAA compliance: Developers can easily design and deploy HIPAA-compliant apps using pre-existing tools that maintain control and privacy, all within a trusted network.
Manage sensitive data securely: Data used to build cloud apps remains private and secure via best-in-class encrypted connections.
Personalize experiences: Seamlessly sync data between Health Cloud and external environments to build apps that deliver personalized and connected experiences.
Step 4: Evolve for What's Next
In today's pandemic reality, care and coverage will continue to from rapidly expanding provider options and changing payment systems to improving access to care. These changes will prepare healthcare providers for the next big challenge they might encounter, whether another phase of the current pandemic or another kind of challenge.
Managing health emergencies necessitates smart segmentation of patient and member populations. Providers and payers must be prepared to deliver targeted care, and to scale it up or down based on imminent need. To facilitate this, they need open channels of communication within and amongst organizations and with patients, members, and their caregivers.
Create Groups for Targeted Care
Patients with a contagious illness would need to enter into a contact tracing program. Patients with a chronic condition or with comorbidities may need ongoing assistance to stay healthy. No matter who your groups are, technology can help segment beneficiaries for various types of assistance or interventions.
Trace contacts of patients with an infectious disease: A robust CRM platform like Health Cloud can organize information around the possible spread of infection and facilitate reaching out to those at risk.
Harness AI: Predictive analytics can reveal patients with certain risk factors or common conditions and then proactively deliver helpful information or encourage preventive care.
Deepen relationships: Personalized engagement with patients based on their real-time care needs re-enforces loyalty. This increases the likelihood of them returning for their next appointment or sign up again for a health insurance plan.
Accelerate Care at Scale
At the time when COVID-19 cases were rising exponentially, healthcare providers rapidly transformed existing systems for virus care and coverage. Once the numbers were in control, there was a spike in demand for several elective and non-emergency care and procedures. Whatever may be the cause of the next spike in healthcare needs, fast and efficient responses save lives.
Plan emergency responses: Put into service a solution for effective an emergency response management to improve prioritization and response times.
Expand telehealth: Implement systems to quickly activate remote operations, whether it's because of patients' hesitation to come in or because you need to assign resources in another way to manage the crisis at hand without disrupting care for those with unrelated conditions.
Address delayed care needs: Enable consumers to get the surgeries or procedures they postpone.
Streamline Communication
The pandemic crisis has revealed how quickly guidance needs can change from one day to the next. From patient care to care worker protection to care coverage, keep everyone up to date on critical information as and when emergencies arise.
Enable digital channels: Get key stakeholders of the process – healthcare staff and patients, the information they need at the right time on the channel of their preference. Enable digital channels to manage questions, address concerns, and seamlessly manage back-and-forth communication.
Distribute updates: Build a learning platform to deliver information on safety and testing and ensure up-to-date staff certification via on-demand learning resources.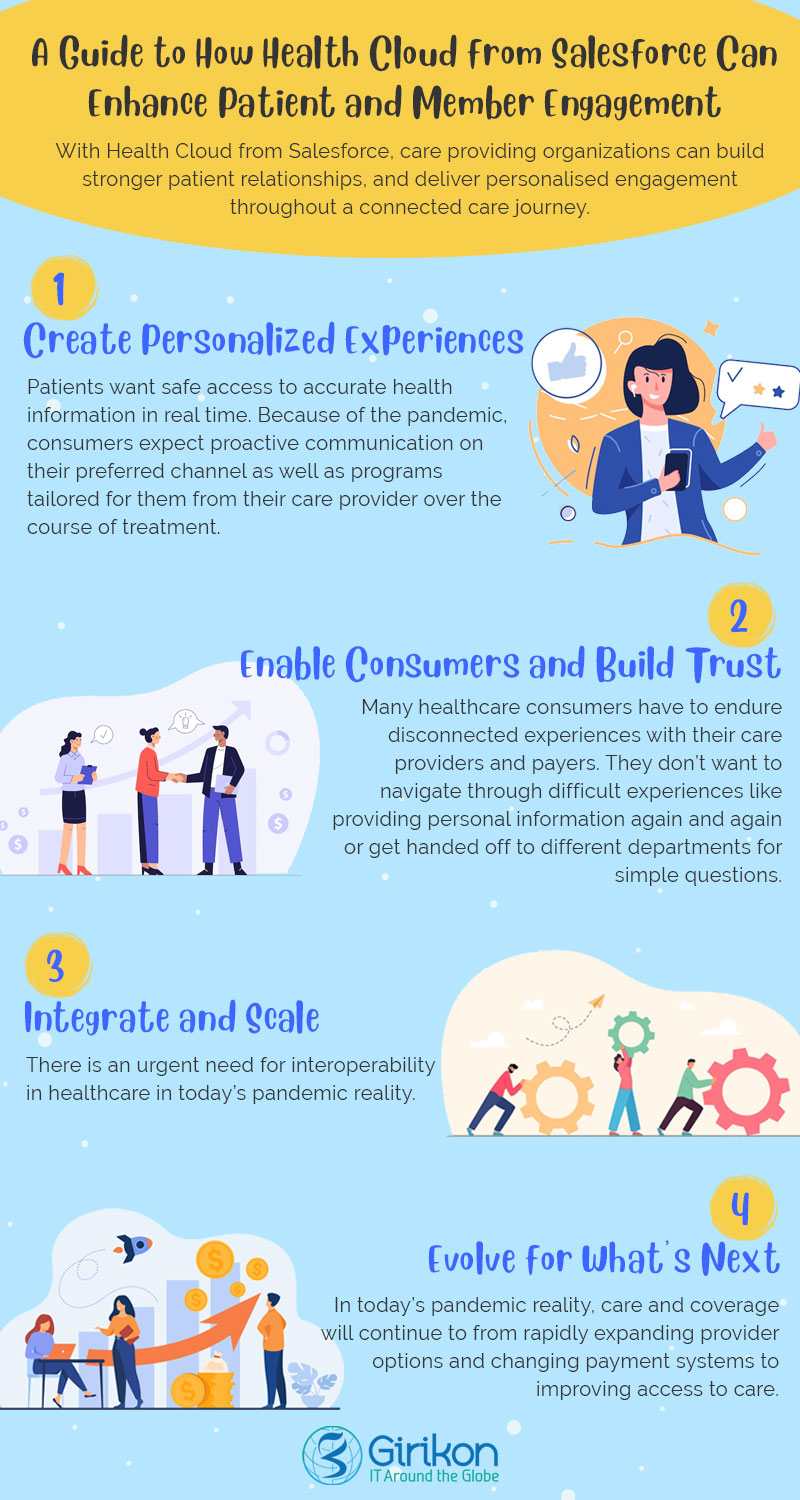 Salesforce delivers Health 360 with Health Cloud. Work with your Salesforce Consultant to deliver connected, rich digital experiences — fast. Reimagine the customer experience, drive consumer engagement, and fast-track growth with data-driven, powerful UI experiences.