What is Salesforce Lightning and what are its benefits?
June 10, 2022

Indranil Chakraborty
Lightning is not just a new way to experience Salesforce. It's the next generation of Salesforce. It's a framework that enables faster customization, comes with a plethora of readymade apps and components.
Salesforce Lightning allows your teams to get things done more efficiently. So they have more time to make your customers happy. This allows sales reps more productive, giving then everything they need in one place. They can sell smarter with Einstein lead scoring and insights. Make a call, leave a pre-recorded voice mail. With every customer touchpoint right within lightning also logged.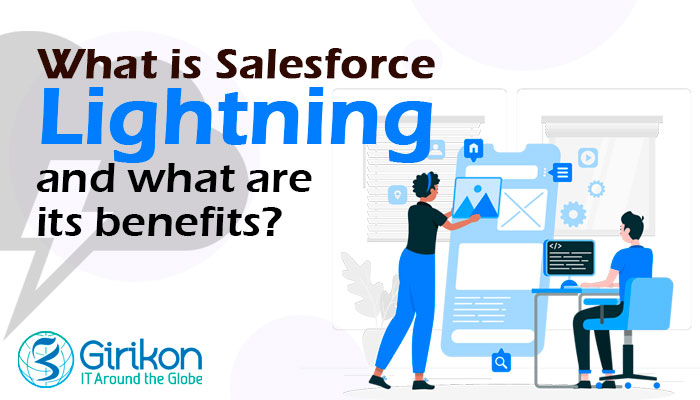 Managers can see how their business is progressing with Kanban. With Einstein powered search, they can filter results easily to find exactly what they need.
And when you need something more, your teams can collaborate on the issue.
Pages are structures with components with the lightning framework. Developers can use prebuilt blocks of code to quickly create new components, admin can drag and drop those components, re-using them on any page.
They can even find hundreds of lightning ready apps and components on the app exchange, taking your business to the next level. Saving on development costs and making your employees happier.
Lightning is the new face of Salesforce: A completely re-imagined next generation user experience and platform.
Discover myLightning. Now anyone can customise apps for any need.
Personalise and build apps with Lightning App Builder.
Now you can develop apps and responsive web pages by simple drag and drop functionality with the help of a huge library of easily configurable components that allow you to do that. You can even make any experience your own personal one by adding custom themes and branding.
With Process Builder and Lightning Flow drive business productivity
With Lightning, you can easily transform complex processes into apps. Use Process Builder's point-and-click interface based workflow and process tools to boost productivity for every aspect of your business with.
Build custom digital experiences fast with Lightning.
Expand your data, business processes and apps to external stakeholders. Integrate external data and content, and personalise the user experience. Launch faster with the help of ecosystem of pre-integrated themes and components.
Build apps faster with Lightning Components.
Lightning Components allows to quickly scale development. Components are reusable building blocks for apps based on standard web technologies that allow apps to load faster on any device.
Highlights of the Lightning services built into the world's most trusted app building platform.
Trusted Cloud Infrastructure
Salesforce is the world's No. 1 enterprise cloud platform. As a result, every app that you develop with Lightning comes with enterprise grade standard of system security, user security, code security, trust, and transparency.
Built-in Shared Services
With the native metadata-driven architecture of Lightning, get a head start on building apps with APIs, integration architecture and connectivity services. Innovate for your unique business needs and scale fast.
Data and Events
Now you can reduce point-to-point integrations with Salesforce's event-based messaging architecture that allows apps to communicate inside and outside of Salesforce. Work with data from any third party source to boost productivity and efficiency.
CUSTOMISE SALESFORCE FOR YOUR BRAND
With myLightning, you have the power to make Salesforce an expression of your business.
With myLightning, you can customise and brand Salesforce as you want. Deliver an experience that truly reflects your business. Change colors, customise themes and set branding elements with just a few clicks, and deliver personalised content and pages to your users.
BOOST PRODUCTIVITY
Drive your entire sales process on the Lightning freeway.
With Lightning, selling fast comes naturally. Sales teams can manage pipelines and projects effortlessly. They can focus on the next steps with Sales Path. With Lightning dialer, connect with your customers easily and quickly.
DEVELOP APPS FASTER
Develop amazing apps with fantastic ROI.
Build and deploy apps for anything, fast, with simple re-suable code across components. Customise and deploy apps at the speed of lightning.
WITH APPEXCHANGE DO MORE, FASTER
Perfect your CRM. Customise with components and apps.
Get access to over 500 apps and over 300 components to extend your Salesforce CRM for everyone. Install in minutes, not hours or days and customise with clicks, not code, suited to your unique business needs.
WORK SMARTER WITH ARTIFICIAL INTELLIGENCE
Meet Salesforce Einstein, your personal data scientist on the cloud.
Get the power of AI on your side. Focus on the most promising leads first with Lead Scoring, discover the best sales moves with Opportunity Insights, and circumvent data entry with Activity Capture.
Salesforce Lightning is an intelligent CRM application designed to help you sell smarter, faster, from anywhere. But that's not all.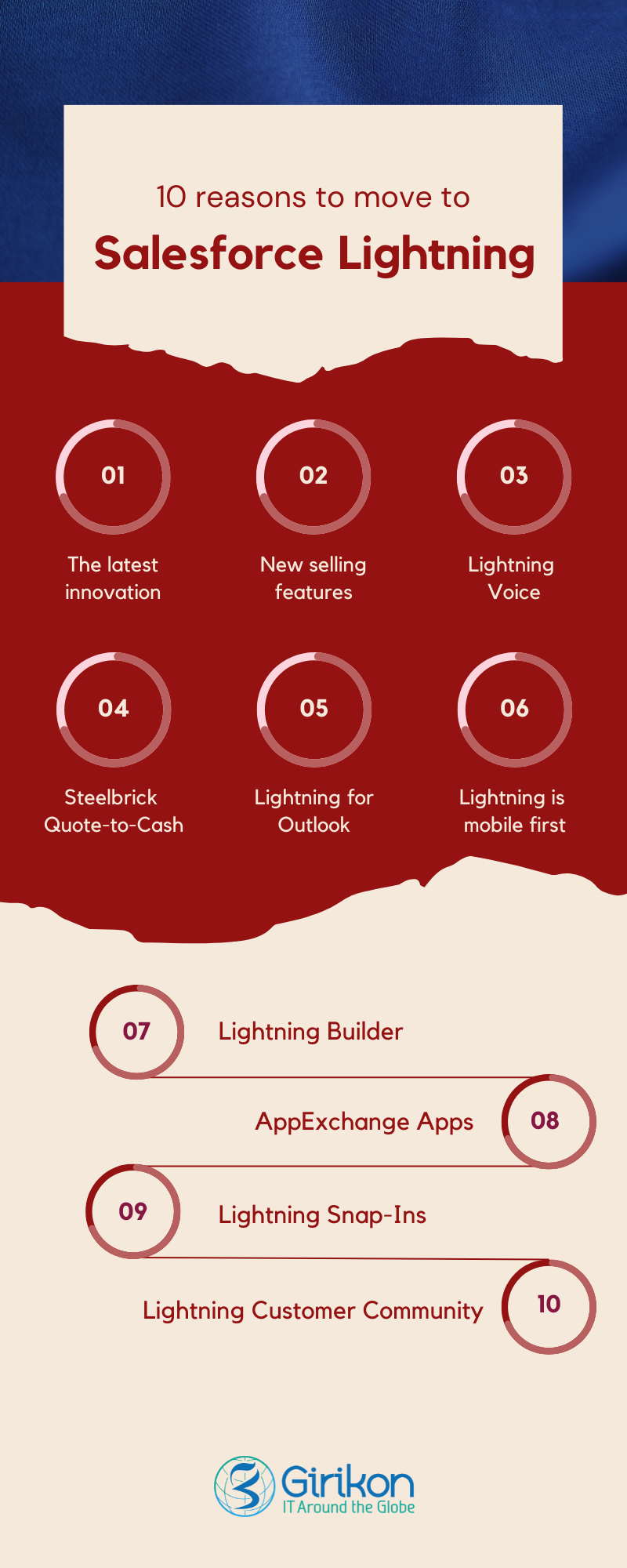 1. The latest innovation
For 2 decades, Salesforce has been re-defining the cloud computing space. Salesforce would have come up with this innovation much earlier, had the technology to support it existed earlier. However, once you move to Lightning, as a business user you get each and every Lightning upgrade from Salesforce, three times a year.
2. New selling features
Salesforce Lightning comes with more than 150 new features and well over 55 new Sales Cloud pages. Salesforce surveyed thousands of sales reps and professionals to come up with the tools they wanted the most. Each tool and feature is uniquely designed to make sales reps more productive and drive your business forward.
3. Lightning Voice
The Lightning Voice feature is a game-changer for sales reps. Sales reps can now enable voice calls directly within Salesforce and connect with customers and prospects faster than ever. This means regardless of where you are while using Salesforce, and no matter what device you use, you can make and receive calls based on context, take notes and log these interactions at the same time.
4. Steelbrick Quote-to-Cash
Steelbrick CPQ (Configure, Price, Quote) is completely built on Lightning and makes Salesforce the first lead to cash sales platform in the industry. With Steelbrick, reps can conveniently generate complicated quotes, manage discount approvals, generate custom branded proposals and agreements, and even collect signatures, from within the CRM.
5. Lightning for Outlook
Salesforce and Microsoft have got together in a strategic partnership to being together the world's #1 CRM and the world's leading productivity suite. Users can access Lightning from your Outlook, without switching between programs. The cloud-based Lightning Sync also keeps your contacts and calendar up-to-date across Salesforce and your Office 365 accounts.
6. Lightning is mobile first
The Salesforce1 Mobile App has been built on top of the Lightning Platform. Both innovations have been designed around reimagining the whole Lightning desktop experience. And to top it off, every customization that that you do on in your CRM, it is instantly accessible on any mobile device thorugh Salesforce1.
7. Lightning Builder
With the Salesforce platform at your fingertips, you don't need to be a seasoned developer to build apps. With Lightning Builder anyone can easily build mobile and desktop apps, and customize pages in Lightning Experience using drag and drop functionality of Lightning components. Three types of components have been made available in Lightning Builder: Pre-built components from Salesforce, components from Lightning Exchange developed by partners, and custom components.
8. AppExchange Apps
There are over 150 third-party apps available on the AppExchange that are Lightning ready, all vetted and designed for easy integration within Salesforce. Lightning ready apps deliver the most consistent user experience as your organization switches to Lightning.
9. Lightning Snap-Ins
Snap-Ins is the latest feature of Service Cloud Lightning. Developed with Lightning Components, Snap-Ins allow businesses to easily and quickly integrate customer support directly into their app platform. This allows you to reach out to customers more effectively, right where they are.
10. Lightning Customer Community
The Lightning Customer Community is power packed with a multitude of features, empowering companies to smartly engage with their customers. The all-new user experience offers a brand new level of personalization, along with engagement opportunities that empower your company to deliver unparalleled customer experience.
Our singular mission at Girikon(Salesforce Lightning Company) is to help our customers become successful. We believe that if we engage deeply with our customers and foster unique relationships with them, it will drive great success and growth.
Are you ready to completely transform how you do business using the Salesforce platform? Get in touch with an expert today!
Get in touch
Contact us for more details on how we can deliver experiences like never before for your clients.
CONTACT AN EXPERT
About Author
Indranil is a technology enthusiast with over 25 years of experience in project management, operations, technology and business development. Indranil has led project teams in egovernance, business process re-engineering, product development and worked with Government and Corporate customers. Indranil truly believes in the power of technology to drive productivity and growth for teams and businesses.
Share this post on: