Increase Business Productivity by Customizing Salesforce CRM
October 7, 2020

Jaya Ghosh
Organizations across the globe are leveraging robust technology solutions to achieve functional, as well as operational efficiency across their workplaces. In fact, parallelizing business operations with advanced technology is mandatory for maintaining a corporate edge. The advent of cloud-based Salesforce CRM took the enterprise world by storm as it offers a wide array of features and functionalities besides an effective customer relationship management platform to help organizations better manage their customer relationships.
Though, Salesforce offers a wide array of features and components, its actual benefits can be realized by customizing it as per the specific needs of a business. So, what is Salesforce CRM customization and benefit for businesses? Salesforce CRM customization involves custom development and coding for adding robust features to the platform. The customized features can be integrated by organizations to gain optimized business growth. A certified Salesforce consultant should be consulted before considering the customization of the CRM platform.
What is the Need for Customization?
It is to be noted that no two organizations endorse the same needs, requirements, and workflows. Though, Salesforce provides a wide array of essential functionalities, it's logical to use custom developed solutions that could cater to specific business roles. Since, Salesforce allows for great customization support, it provides users the convenience of designing business-specific features, functionalities, and workflows to ensure superior service to their customers.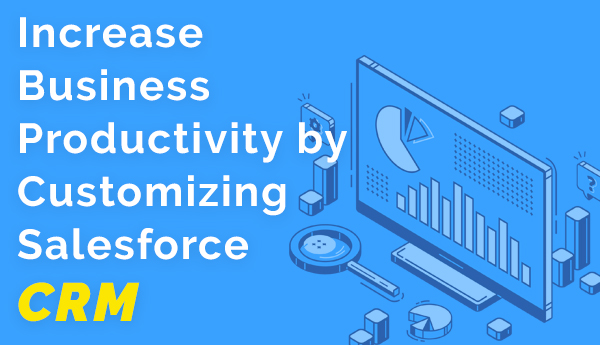 By customizing their existing platform as per their unique business needs, users can make optimal use of Salesforce applications, which significantly improves customer interactions and workspace collaboration. By optimizing their business platform, companies can increase their service competence drastically while enjoy augmented customer retention and satisfaction.
Essential Salesforce CRM customization, which Every Business Should Have:
Custom Portal: Salesforce custom portal provides for a great end-user experience. For instance, a custom client portal improves convenience for clients as well as businesses alike. Similarly, a custom portal for partners or employees' can help in streamlining communications among the partners or teams thereby boosting business growth.
Customized Views: Yet another Salesforce customization that can enhance business performance is Customized views. This customization can provide customers with a hassle-free experience as customized views provide users with functionalities such as customs forms, list views, etc. that would help them deal with the problem related to default restrictions.
Custom Dashboards: Custom dashboard provides organizations with a 360-degree overview of their business processes. One useful application of customized dashboards includes keeping a track of the sales funnel by creating a custom module, which helps in keeping a record of the buyers, sellers, leads, agents, etc.
Quick Wrap-up:
In a nutshell, we can say that Salesforce customization is a crucial aspect worth considering for improving the workflow of an organization while promoting better performance, productivity, and ROI. Organizations looking for customizing their Salesforce platform should consider partnering with a reliable service provider for all types of Salesforce support.
About Author
Jaya is a content marketing professional with more than 10 years of experience into technical writing, creative content writing and digital content development. Her decade long experience lends her the ability to create content for multiple channels and across different technology verticals.
Share this post on: