Bid Adieu to Dirty Data by Implementing Salesforce Data Cleansing Best Practices
October 20, 2020

Jaya Ghosh
Data is the lifeblood of every organization as it drives knowledge, insights, and decision making. However, the integrity of the knowledge, decision, and company's existence are at stake in case your database is riddled with bad or dirty data. So, if you have invested in a robust Salesforce CRM and are looking forward to making the most of its innovative features and functionalities, make sure you cleanse the Salesforce environment by employing data cleansing methods.
Poor data hygiene can impact productivity, revenue, and user adoption, which in turn might lead to a trust crisis among your end-users who might now be apprehensive of investing their time and energy in a system that is loaded with dirty data that might impact the quality of work. While petty data quality issues such as account records and duplicate contact can be resolved by leveraging the expertise of in-house Salesforce administrator, critical issues need to be addressed by seeking Salesforce support from a third-party service provider.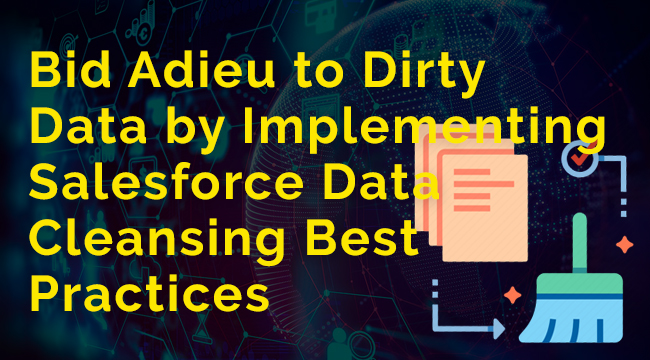 Listed below are some of the significant benefits of data cleansing your Salesforce instance?
Accurate forecasting: The accuracy of sales analytics and forecasting depends on the quality of data stored in the database. If the data used for analysis is complete and error-free, you will receive reliable reports and forecasts.
Increased productivity: When sales reps have access to precise and complete data in CRM, they can zero in on leads with higher conversion probability.
Shorter sales cycle: Sales teams having access to up-to-date CRM data can prioritize their sales activities, which in turn helps them to close sales deals quickly.
What are Best Practices to be followed for Salesforce data cleansing?
Conduct Regular Audits: It's difficult to accurately figure out how much big data exists in your Salesforce database. Regular audits should be conducted to evaluate that data. Salesforce offers a certain solution such as 'Incycle' for reviewing Salesforce data. The solution can help find reports with improper formatting while identifying several inconsistencies, filter data to find out missing data.
Process Improvement: Data cleansing requires evaluating the opportunity and lead management processes to unify data input standards for various systems that function within a company. In the absence of unified data input standards, data duplication will take place within the CRM.
Using Right Tools: It's crucial to have in hand the right tools if you have to deal with data sets with millions of entries. By using Salesforce cleansing tools like Insycle, not just bulk cleaning of common data problems can be ensured but also allows scheduling of data cleansing automatically on a daily, weekly, and monthly basis.
Quick Wrap-up:
To ensure quality data standards, organizations should indulge in regular data cleansing activity. It is in the interest of your business to indulge in creating a data hygiene strategy by seeking support from a certified and experienced Salesforce consultant. A reliable consultant has the experience and expertise to help you to implement a custom-made data cleansing strategy that meets the specific requirements of your organization.
About Author
Jaya is a content marketing professional with more than 10 years of experience into technical writing, creative content writing and digital content development. Her decade long experience lends her the ability to create content for multiple channels and across different technology verticals.
Share this post on: