Streamline Your Business Communication Using Salesforce Texting App
November 22, 2021

Jaya Ghosh
Customer communication is the cornerstone of every business entity. Effective communication ensures better engagement with customers, which leads to better business growth and sustenance. With the majority of people relying on mobile devices for communicating with each other, there has been a gradual shift in how customers prefer to communicate. Though there is no dearth of internet-powered communication tools, SMS (Short Messaging Service) continues to be one of the most effective modes of business communication.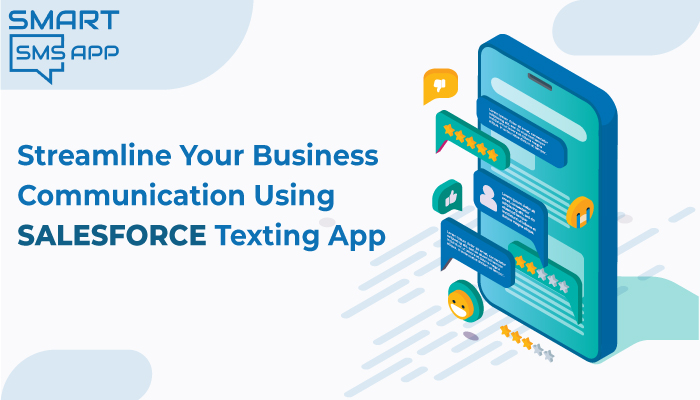 SMS has become a critical aspect of every business's customer experience strategy as it helps businesses connect with their customers in the preferred channel. This leads to better sales productivity and a quicker time to respond to service inquiries by customers. While SMS is a highly effective mode of business communication, its' interface isn't intuitive enough to meet the evolving needs of a business.
When integrated with a robust software system like Salesforce, the effectiveness of the SMS App increases manifolds. One such Salesforce SMS App is the Smart SMS App that offers a wide array of advanced features that helps businesses take their business communication to the next level.
Built natively over the Salesforce platform, the App empowers users or businesses to better connect with their customers. The App empowers users to run single / Bulk SMS / MMS campaigns while empowering businesses to quickly reach more customers by leveraging features like Automation through workflows, a consolidated repository of SMS activities, customizable SMS templates, Pardot integration, and more.
By enabling personalized communication, the App empowers organizations to send SMS through automated, batch, and conversational texting, which helps to close more sales deals.
The robust App is one of the best Salesforce texting App available on the AppExchange as it is not just cost-effective but also offers dedicated and reliable support.
Apart from this, the powerful App works equally well in the Salesforce Classic and Lightning platform without the need for additional configuration. This one-stop texting solution is easy to install and can be downloaded easily from the AppExchange by following simple steps. Being a top-class messaging app, the App draws faster customer response when compared to other channels of communication such as emails, etc.
Quick Wrap-up:
So, as a forward-looking business, if you are looking to streamline your communication strategy, you must consider leveraging a robust Salesforce integrated SMS App that can accelerate your business growth.
About Author
Jaya is a content marketing professional with more than 10 years of experience into technical writing, creative content writing and digital content development. Her decade long experience lends her the ability to create content for multiple channels and across different technology verticals.
Share this post on: