Take your eCommerce Business to New Heights with Salesforce Commerce Cloud
December 9, 2021

Jaya Ghosh
Managing an online business is no easy feat as marketers have to deal with multiple things such as customer relations, production duties, sales, marketing, along with technical aspects. Apart from this, a lot of time and resources are involved in certain activities such as software development, system administration, and more. This may create hurdles, especially for midsize companies looking to scale up to a growing eCommerce market. As a leading name in the CRM space, Salesforce has included robust eCommerce solutions in their arsenal under the umbrella of Salesforce commerce cloud. Businesses should consider partnering with one of the best Salesforce consulting companies if they are willing to implement Salesforce commerce cloud.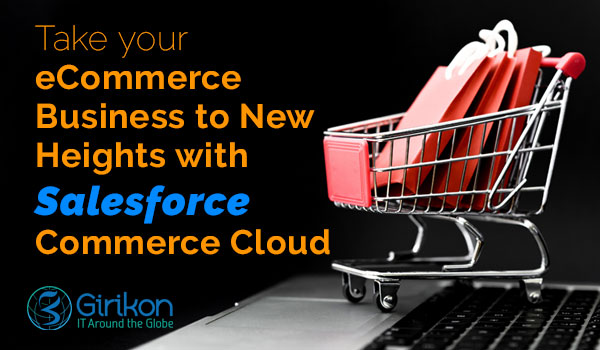 Role of Salesforce Commerce Cloud for Businesses
Earlier known as Demandware, Salesforce commerce cloud is a multi-tenant, cloud-powered platform that empowers businesses to create unified buying experiences across multiple channels, including web, social, mobile, and physical outlets. It is a collection of Apps and Software services that work on the Software as a Service (SaaS) model and is focused on eCommerce companies.
The idea behind creating this eCommerce solution is to manage all the technical aspects of running an eCommerce business as Software and systems require constant upgrade and enhancement to stay significant. Salesforce commerce cloud has the potential to manage everything regarding updates and new features.
By implementing this cloud solution, organizations will seamlessly scale their operations and focus on other essential business activities.
Significant Features of Salesforce Commerce Cloud:
Continuous upgrades: The platform offers new enhancements and features that enable businesses to deal with today's dynamic market conditions and customer requirements.
Merchandising and management Tools: allow businesses to manage everything related to pricing, products, and catalogs across their websites.
Scalability: As a cloud-based platform, Salesforce Commerce Cloud helps businesses deal with a massive spike in traffic without planning. If there is a sudden increase in demand, the platform silently scales in the background without the need for any intervention.
Order management: Everything from production to delivery, Salesforce Commerce Cloud displays all stages of order processing, thereby providing businesses with an accurate representation of enterprise inventory, irrespective of their location.
Real-time reports and Dashboards: It allows tracking revenue, lead volume, and performance to help organizations make informed business decisions through clear insights.
What Makes Commerce Cloud an Ideal Option for Your Business?
The robust cloud platform includes all functionalities required for easy eCommerce, online shops and mobile stores, and everything under one single roof. In fact, it is a compelling solution that offers impressive features and functions to help drive sales and business growth.
Quick Wrap-up:
To sum up, Salesforce Commerce Cloud is a robust eCommerce solution that connects sales, marketing, and services that allow users to create fantastic buying experiences for their customers. It will enable businesses to manage their operations from a single point. If you are still on the fence regarding the benefits and usage of this platform, you must consider getting in touch with one of the reputed Salesforce consulting partners. Such a partner will develop innovative solutions that can help you fulfill your unique business needs.
About Author
Jaya is a content marketing professional with more than 10 years of experience into technical writing, creative content writing and digital content development. Her decade long experience lends her the ability to create content for multiple channels and across different technology verticals.
Share this post on: