The Significance of Salesforce AI in Improving Marketing, Sales and Service
It would rather be an understatement to say that AI (Artificial intelligence) has grown in popularity as an extremely effective marketing tool over the past few years. It has indeed disrupted the business ecosystem and has transformed the way businesses conduct themselves. So, before we explore the benefits of AI for businesses, let's understand what Artificial Intelligence is all about?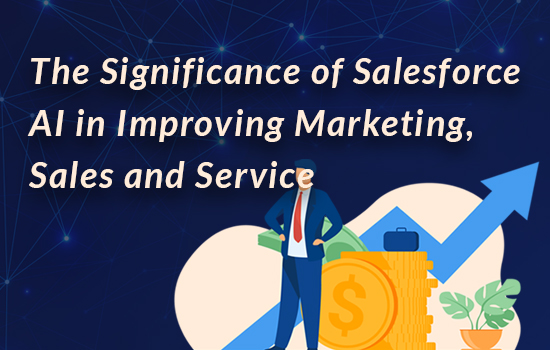 Unlike the way AI has been represented in movies, it is an amalgamation of multiple technologies such as machine learning and deep learning capabilities that work in tandem with each other.The technology can be leveraged to analyse data while providing with predictions that are easy to follow and recommendations to make more rapid and informed decisions. This will not just ensure operational efficiency but will also improve business growth and productivity. Today, organizations can make the most of AI-integrated CRM systems such as Salesforce Einstein to boost their decision- making process, and improve the customer experience.
What is Salesforce Einstein?
Salesforce Einstein amalgamates the AI technology with the Salesforce CRM. It uses data gathered as a result of all the user activity to provide predictive analysis, natural language processing (NLP), and machine learning to the customers. Salesforce Einstein accumulates all the past data and analyzes them against pre-defined sets of parameters to create data models that are tested on enormous data sets to provide with predictions and recommendations. Salesforce Einstein allows users to know what is following in a similar situation or what act or activity affected the situation perfectly when similar cases existed in the past. However, once a model is created, Einstein not just uses it till the end but runs the model on incoming messages to check if further changes are required. This allows Einstein to provide precise recommendations and forecasts. It is prudent to partner with one of the best Salesforce consultants to know about the benefits of this amazing platform.
What are the Benefits of Salesforce Einstein?
Marketing + Einstein:
Predictive Lead Scoring and email personalization: Salesforce Einstein can help marketers perform engagement scoring. Depending on the characteristic of every customer, Einstein can see how likely they are to engage with their content and then recommend personalized email content based on their preferences. This leaves marketers with sufficient time to spend time more productively.
Track Social Media Post: Einstein can organize different social media posts into predefined categories to segregate real information from the clutter. For instance, troubleshooting of brand image is done by tagging negative comments and assigning the task of investigating the same to a particular team. Einstein browses through posts with photos or images for image recognition and processing. Einstein can also be trained for sentiment mapping for segregation of social media posts.
Marketing + Sales:
Salesforce Einstein can help sales reps to
Develop more Pipelines: Einstein Lead Scoring allows sales reps to handle their best leads. Basis the previous deals, Einstein automatically order the leads that are most likely to convert and close.
Choose Top Performers: Whether you wish to know the possibilities of deal closure, understand the involvement of competitors, recognize customer sentiment, or prospect engagement, you can do so with Einstein Opportunity Insights.
Saves Time: Einstein provides relationship recommendations both in case of leads, as well as opportunities. For instance, if any of the several opportunities have re-engaged, Einstein provides suggestions to call or email them. It also coordinates your calendar and email with Salesforce to do away with manual entry of data thereby leaving sales reps with ample amount of time to manage other important activities.
Einstein + Service:
Salesforce Einstein can help service managers in the following ways:
Manage Customer Satisfaction Rates: Einstein predicts the level of customer satisfaction by analysing the availability of the agent, wait times, and queues in real-time. If these are found to be alarming, service managers are provided with necessary recommendations to rectify the situation. Apart from this, Einstein also provides response alternatives to customer queries and classifies them automatically. This allows service managers to resolve cases quickly, which ensures higher customer satisfaction rates.
Keep Agents Informed: Einstein can classify, and analyze the information on a particular case basis which can redirect the concerned customer to the right service agent. However, while redirecting the customer to the desired agent, it provides all the necessary case info to the service agent.
Final Words:
Artificial Intelligence has tremendously impacted the business ecosystem. When integrated into a CRM (Customer Relationship Management) system, businesses can enjoy operational efficiency and transform customer experiences by leveraging predictive intelligence, machine learning, and NLP. Salesforce Einstein with its predictive analytics capabilities can do a lot of things that can pep up the functioning of your marketing, sales, and service departments, which ultimately will translate to better business performance and greater customer satisfaction. To know more about Salesforce Einstein, you must consider partnering with a reliable Salesforce partner.
About Author
Jaya is a content marketing professional with more than 10 years of experience into technical writing, creative content writing and digital content development. Her decade long experience lends her the ability to create content for multiple channels and across different technology verticals.
Share this post on: