What are Salesforce Implementation Challenges and Ways to Address Them?
January 18, 2022

Jaya Ghosh
Without any doubt, Salesforce is one of the most popular CRM systems available. With a market share of around 18 percent, it enjoys a wide adoption rate. The robust cloud-based platform offers a wide array of features, functionalities, and components to help businesses resolve unique business challenges. However, to make the most of this amazing platform, it's important to ensure its proper implementation as companies might face several challenges when implementing it into their IT environment.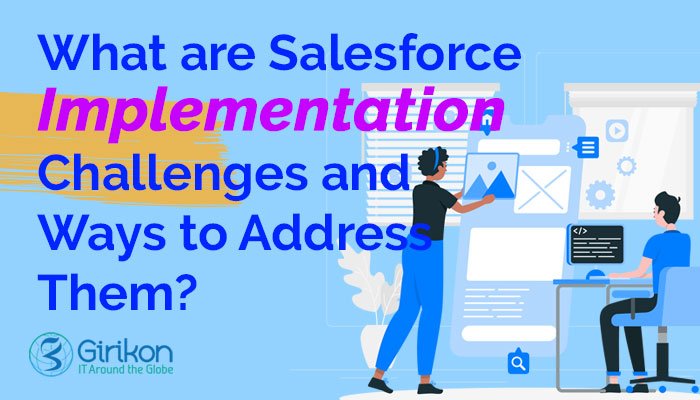 Salesforce Implementation Challenges:
Let's take a look at some of the common challenges organizations face while planning Salesforce implementation:
Costs: The cost of implementing software is a major concern for businesses. It is essential to ensure whether the investment you make will provide timely returns. To resolve your queries, you must consider getting in touch with one of the reliable and certified Salesforce Consultants. They can address all your concerns and provide you with the necessary Salesforce knowledge.
Choosing the Right Partner: Though Salesforce offers a wide array of out-of-the-box solutions, these solutions might not be as efficient as the tailored ones. It is essential to partner with a reliable Salesforce partner who can help you with your specific requirements.
Implementation Challenges: Salesforce implementation can be challenging due to a large number of tools and functionalities. There is no point in paying for the features you don't require or utilize. This is where customization comes into the picture, as it allows users to pick only those functionalities that are useful for their business.
Integration Challenges: Integrating Salesforce with other third-party systems can be challenging. It is essential to devise a proper implementation strategy with your partner to enable seamless integration of Salesforce and other tools to get extra functionality while exchanging crucial data. It is also essential to decide if any existing softwares' (especially the paid tools) need to be retained. This will prevent you from overpaying for a tool whose functionality is covered by Salesforce.
Data Migration: The first step while implementing Salesforce is to migrate all the previously stored data on servers and hard drives to the cloud, i.e., Salesforce, a cloud-based solution. It is essential to seek support from a data migration specialist to ensure hassle-free migration of data. A specialist will look into issues such as data loss and duplicity.
Lack of in-house Experts: One of the major issues organizations deal with during Salesforce implementation is user adoption. It is essential to ensure that your company hires an in-house expert who, besides assisting with the implementation process, also provides training to the other team members regarding its usage. In the absence of an in-house expert, team members might not utilize the platform confidently and fail to make the most of it.
Ongoing Support: Like any other system, Salesforce requires constant Salesforce support to ensure that the platform works seamlessly and meets your business goals. It's crucial to engage a professional support team to optimize the platform's functionality to ensure that it performs at its best.
Final Words:
These are some of the Salesforce implementation challenges that organizations need to address to ensure a hassle-free implementation. By partnering with a reliable certified service provider, organizations can deal with implementation challenges.
About Author
Jaya is a content marketing professional with more than 10 years of experience into technical writing, creative content writing and digital content development. Her decade long experience lends her the ability to create content for multiple channels and across different technology verticals.
Share this post on: