Why Should Small & Medium Businesses Consider Implementing Salesforce?
December 17, 2021

Jaya Ghosh
Salesforce – a robust cloud-based CRM has garnered much popularity among businesses of different sizes due to the wide array of features, functionalities, and components. Cloud-based CRM has proved immensely beneficial for companies looking to streamline their business operations and enjoy operational efficiency. It helps organizations execute their business operations centrally. Moreover, resources are shared via the internet, and storage is done in the cloud. It makes sense to get in touch with a certified Salesforce consultant to know more about Salesforce implementation.
Though small and medium enterprises (SMEs) depend on sales teams to pitch their products and services to new and existing customers with interesting deals, sales teams often fail to attain their original goals due to the lack of flexible, organized, and scalable structure that back their hard work. Since optimization of sales process & streamlined customer service are crucial for any company, SMEs aren't any exception. This calls for an efficient system that can help businesses streamline their sales process, and Salesforce has the capabilities to transform their needs.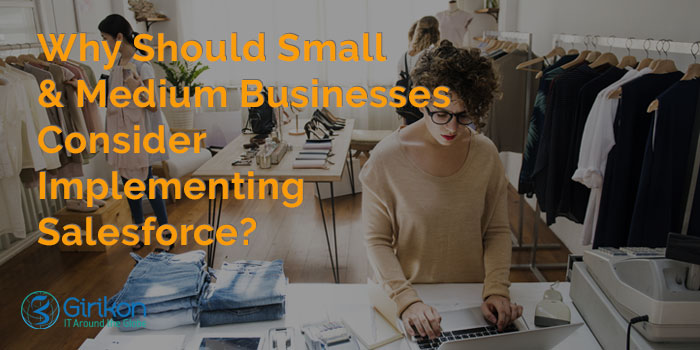 Improved Customer Management: A significant reason SMB's should consider implementing Salesforce is that it helps capture leads by using the web to lead features and then qualifying those leads. It provides a detailed view of all the customer interactions that has happened in the past while alerting users at the right time for a planned meeting or contact. In other words, Salesforce allows users to understand better the position of their customers and the route they need to undertake to ensure increased engagement and satisfaction.
Smarter Customer Service: Small businesses are pressed for time, and thus it isn't easy for them to stay on top of customer requests. So by the time businesses realize that an issue has occurred, customers have already left and decided to partner with another business. Salesforce allows companies to implement a chatbot on their website. The bot immediately responds to customer queries and sends alerts regarding the initiation of a conversation. Companies can also access important customer data, which they can leverage to provide great customer service.
Insightful Information: Another reason that makes Salesforce CRM an excellent tool for SMBs is that it is cloud-powered. Since all customer data are present in a single place, it becomes easy to access comprehensive details. By utilizing the insights gathered from the information, patterns can be identified, and future trends can be predicted, which can help organizations provide better customer support and increase retention.
Scalable Growth: The tools, apps, and software leveraged by businesses might not fit well as the business grows, compelling companies to other devices and software that are scalable. This would entail training new employees, tweaking business processes, and investing. With Salesforce CRM, no such hassles are involved as it is designed to scale with a business.
Affordable: Being a cloud-based CRM, all the expenses related to overpriced servers and architecture is done away. Moreover, businesses do not require hiring employees for system maintenance and support. It is possible to outsource the development, implementation, and support to certified Salesforce consulting partners, reducing the upfront cost considerably. Users can choose from the various annual and monthly subscription plans and user licenses as per their budget and feature requirements.
The Bottom Line:
Salesforce is the indisputable leader in the CRM space. Among all the CRM's available, Salesforce offers the maximum number of features, integrations, customizations along with free and paid mobile apps. So, if you wish to build strong customer relationships while growing your loyal customer base, then you must consider implementing Salesforce within your business ecosystem
About Author
Jaya is a content marketing professional with more than 10 years of experience into technical writing, creative content writing and digital content development. Her decade long experience lends her the ability to create content for multiple channels and across different technology verticals.
Share this post on: