Salesforce Education Cloud: Helping Institutes Build Connected Experiences
December 15, 2021

Jaya Ghosh
The education industry has evolved significantly over the past few years. With burgeoning competition, synchronizing the departments and managing processes have become challenging for educational institutes. Salesforce has revolutionized the education industry with its innovative cloud solution, i.e., Salesforce education cloud that has provided institutions with a 360-degree view of their students, faculty, parents, donors, and alumni. This has helped bring in a new era of remote instruction, virtual learning, and digital engagement while providing best-in-class support for admissions, learner success, recruitment, and student support staff to empower pupils and the whole campus through a single integrated CRM.
The benefit of using the Salesforce education cloud is that it can be used to manage multiple processes such as admissions, product knowledge, document verification, logistics, etc., besides sales, marketing, and CRM, without adding new systems for different processes. To implement this robust cloud platform, institutions should consider seeking Salesforce consulting from a reliable service provider.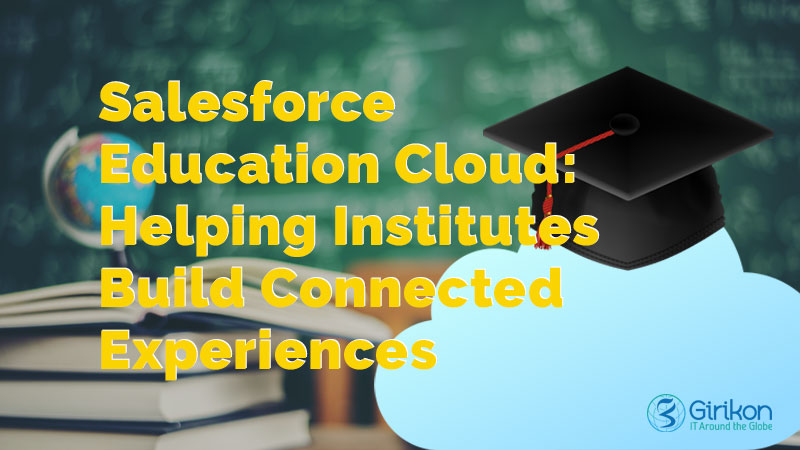 What is Salesforce Education Cloud?
This cloud platform enables education institutes to view students as potential customers and make the most of insightful data to draw, retain, and serve them in a personalized way. With this cloud solution, educational institutes can provide all the information desired by the students in a consolidated manner. Apart from this, the cloud solution also helps boost personalized communication via this platform.
Listed below are some of the benefits of using the Salesforce education cloud:
Student Data Management: Right from filling the application till the completion of the program at the educational institute – a lot needs to be accomplished during the student life cycle. All this can be managed in a hassle-free and straightforward way using Salesforce. The Salesforce education cloud integrates several student-friendly features, which can be leveraged to enhance student engagement, provide unified counseling and job opportunities and college services. The software offers institutions a complete view of every student while interacting with them on their preferred device.
Internal Dashboard for Faculty: Communication is highly crucial among the faculty members and students. The Salesforce education cloud integrates highly useful features included in the central dashboard, ensuring smooth communication between the faculty members and between the faculty and the students.
Parents' Portal: Every parent wishes to keep track of their children's performance. By leveraging the Salesforce education cloud, educational institutes can design a dashboard or a parent portal that allows parents to access information about their children from the comfort of their homes. The platform also facilitates direct and continuous communication between the faculty and the parents.
Marketing: Like any other business, marketing is crucial for educational institutes. Given the growing competition in the education sector, it is important to leverage a marketing cloud CRM like Salesforce marketing cloud and Salesforce education cloud that ensures impactful marketing in the digital era.
Automation of Learning Processes: By leveraging Salesforce, institutions can automate mundane tasks that earlier required human effort and time. With the Salesforce education cloud, institutions can automate various tasks and processes, including career counseling, tracking every student's task update (resume building or assignment submission). The dashboard created by integrating Salesforce Education Cloud and Salesforce CRM empowers students to keep track of all the activities from the beginning. Apart from this, tracking past performance, growth, and more can be automated using Salesforce.
Support: It is essential to have a single point of contact for students, instructors, and parents to ensure smooth processes. This could be done by customizing the Salesforce Education cloud to create solutions that enable connected campus communities.
Final words:
Salesforce education cloud empowers institutes to become more organized and efficient. Every educational institution has its unique requirements. However, the Salesforce Education cloud offers the flexibility to be customized as per the institutions' particular needs. To know more about this robust platform, institutions should consider contacting a Salesforce consulting partner.
About Author
Jaya is a content marketing professional with more than 10 years of experience into technical writing, creative content writing and digital content development. Her decade long experience lends her the ability to create content for multiple channels and across different technology verticals.
Share this post on: