Improve Your Data Quality by Leveraging Data Integrity Solutions
Businesses across the globe irrespective of their size or Industry verticals integrate data sets to streamline business process. In fact, companies are moving more and more to data driven decision making, for example data is used to prepare marketing strategies, customer experience improvement plans, and analysing business trends. Given the importance and reliance on data and the volume, data integrity has never been more critical.
Why is data integrity important?
As data is not static, data integrity can be easily compromised. Data gets compromised through human error while making entries into spreadsheets or during the transfer from one device to the other. Hence there is a need to protect data and minimize the risk of corruption. Corrupt or incorrect data can adversely impact business performance, which can further translate to incomplete prospect and customer data, wasted marketing efforts, and increased spending. Thus, safeguarding data should be a top priority for organizations.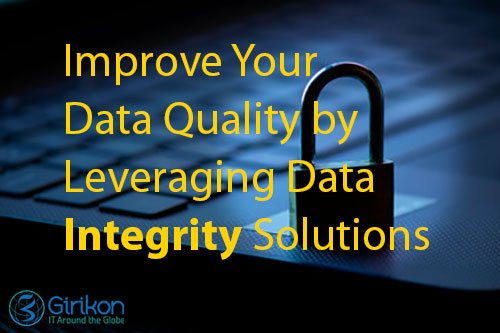 What is data integrity?
Data integrity refers to the maintenance, accuracy, and consistency of data during its lifecycle. This involves ensuring that the people, processes, and technology of an organization are working in tandem with each other to ensure that their data is maintained for completeness, consistency, searchability, and traceability.
Girikon is here to help with Data Integrity
As a reputed Salesforce consulting partner, Girikon partners with you to understand your digital vision, strategy, where you are at your business maturity stage and data management practices.
The data integrity solution offered by Girikon allows you to create a systematized process to maintain data integrity and identifying the source of truth. This starts with identifying the data sources and consolidating them (that lay scattered in multiple places) in a single location, removal of duplicate and incorrect entries, and data cleansing using validation rules.
Girikon's data accelerator tool can be used as part of a once off data management process or as a part of an ongoing maintenance program.
The outcome
The de-duplicated, cleansed, and standardized data is then analysed to draw meaningful and actionable insights that can be leveraged by the sales, marketing, and customer service team to carry out their tasks efficiently and successfully. If you wish to put your organization at an advantage, then you must provide your team with the best artillery of prospect and customer data intelligence by following proper data integrity practices, and this could be made possible by seeking Salesforce support from a reliable partner.
Outlined below are some of the significant benefits of prioritizing data integrity in your organization:
Smarter Targeting: An easy way to source new contacts is to look through your existing client list and then follow them strategically. By understanding your current customer base and using those insights, you can launch outbound sales and marketing efforts to leads and accounts of the same type, which is a perfect way to confirm that your efforts are not wasted in pursuing the wrong prospects.
Time Efficiency: Nothing can be more debilitating than creating an impressive prospecting email and directing it to a prospect, only to get demotivated with an autoreply that the address to which the email is sent is incorrect. Rather than indulging your sales teams to spend their time in figuring out a phone or email data of a prospect, it is prudent to provide them with precise contact and account data. This will not just save their precious time but will increase their efficiency while keeping up their motivation high.
The Bottom-Line:
Precise Salesforce data underpins your ground attack to generate better revenue. It is therefore imperative for the sales, marketing, and operation team to understand the wealth of information accessible to them and to utilize it in the best possible way by investing in a robust data integrity solution, as well as a standard procedure and checklist to ensure data integrity before uploading data on Salesforce.
About Author
Jaya is a content marketing professional with more than 10 years of experience into technical writing, creative content writing and digital content development. Her decade long experience lends her the ability to create content for multiple channels and across different technology verticals.
Share this post on: