Salesforce Integration: Pre-requisites and Benefits of a Successful Integration
January 17, 2020

Jaya Ghosh
Customer relationship management (CRM) is the lifeblood of any organization looking to improve their business efficiency by streamlining their processes. Salesforce – a cloud-based CRM is considered to be the best CRM system that has found global adoption by businesses across different industry verticals. This is because the robust CRM offers organizations with everything that is required to provide superior customer service, which ultimately results in quick closure of sales deals.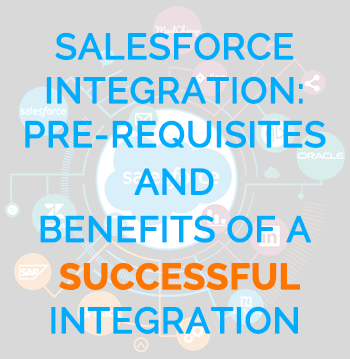 Since, there are other apps such as Gmail, MailChimp, MS-word, etc that are being used by organizations for managing several business activities such as creating collaterals, sending emails, etc., it is important to integrate them through Salesforce integration to manage and execute these activities easily. For successful integration, businesses must get in touch with a reliable Salesforce consultant. Apart from this, several other third-party apps are available on Salesforce AppExchange that are being configured by companies to streamline their business operations.
Prerequisites to Consider Before Salesforce Integration:
Businesses adopting Salesforce must integrate it with different applications frequently. While every integration is unique in itself, some basic pre-requisites should be given due consideration before integration:
Frequency of Data Transfer: It is important to consider the frequency of data transfer between Salesforce and the app/system being considered for integration. To begin with, you will require guiding out the information projected to move from one framework to the other. Once you have recognized data required to adjust and focus around the course of development, you will finally have to think about the frequency of data movement.
Type of Integration: For every integration project, you should know the type of integration involved. For instance, real-time integration is involved when a new record is created, the information gets updated instantly. However, Batch integration occurs at specific time intervals.
Support: It is important to determine who will help with the troubleshooting in case something goes wrong with the integration system before completing the venture. Though, at times the issue gets fixed by itself when the work runs next time; in certain complex cases, human intervention and research are required.
With Salesforce integration, CRM users can access all the functionalities of a third-party app from within the Salesforce CRM rather than switching in between Salesforce and other apps. With a clear understanding regarding Salesforce integration, it's time now to discuss its benefits for business entities:
Easy Access to Data: Through the integration of apps, data from other apps can be accessed. This provides businesses with meaningful data, which can be analyzed to draw meaningful insights for making better business decisions.
Enhanced Productivity: With Salesforce integration, manual automation of data can be done. With this, errors that occur during manual data compilation is reduced considerably. In other words, it becomes easy to get quick and error-free results.
Generates Insightful Reports: With effective Salesforce integration, businesses get access to managed and meaningful reports. This empowers businesses to make structured and informed decisions.
Codeless and Automated Workflow: When apps and systems work collaboratively, organizations can achieve their business goals through point and click workflow automation.
Conclusion:
While organizations can reap in several benefits through a well-managed integration, they might lose a good client because of a failed integration. With a little bit of planning, businesses can understand and avoid mistakes that can make the integration unfruitful. As a company based in Australia, you can seek help from reliable Salesforce partners in Australia to ensure a successful integration.
About Author
Jaya Ghosh
Jaya is a content marketing professional with more than 10 years of experience into technical writing, creative content writing and digital content development. Her decade long experience lends her the ability to create content for multiple channels and across different technology verticals.
Share this post on: