Growth Hub Education Community Portal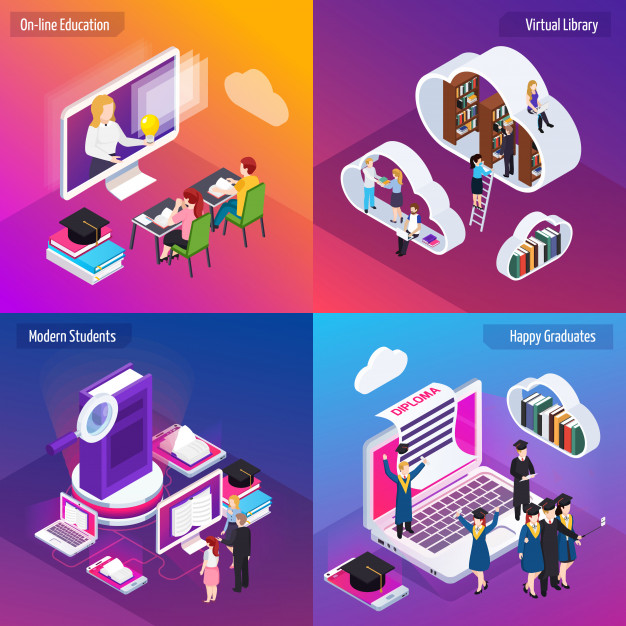 Great Service!

Background
The Client is a leading name in the entrepreneurial education space. Since its inception, the client has helped over 3,500 business owners across 250+ industries to enrol in a single membership program and empower them to build a successful business.
With a community of 500+ entrepreneurs, the Client pioneers new and advanced education methodology that addresses the pain points of the conventional education practice and lay emphasis on learning real-world business skills, emotional intelligence, creativity and innovation. Girikon helpedtheir Client realise business outcome by providing them with a single membership platform where in small/medium enterprises can come together to attend live, in-person workshops and online masterclasses in presence of industry experts to draw insights and acumen required to build a successful business.
The Problem
The Client was dealing with multiple challenges with their existing solution, which is an application solution that had Salesforce integrated loosely with little to no scope for interoperability.
Some of the major challenges faced by the client include the following:
Members and Community users were created manually
Audio/video content not accessible to members
Members were not able to access relevant content in the existing portal
Event management process not user-friendly for specific event
No flexibility for members to use/redeem membership inclusions i.e. workshop seats and session type inclusion as per their seat availability. Users and Members did not have a way of tracking the used and remaining Inclusions
Members not able to request specific coach led sessions from portal
Marketing professionals not able to handle duplicates leads, contacts generated through different marketing Campaigns and events
Difficulty in accessing key information about past conversations between multiple team memberswith activities and notes being posted in multiple locations.
The solution
Solution Inclusions and Features
Girikon began with developing a POC (Proof of concept) for analysing and addressing the pain points of their Client's business. In response to Client's requirement of consolidating education, team of seasoned professionals at Girikon developed a solution that integrated Kajabi and Salesforce SSO. The robust solution provided the clients with:
Kajabi powered solution offers better functionality, which allows for a better quality video display as compared to clunky, expensive viewtrack video display.
Salesforce Community Cloud
Multiple branding and application built on standard Lightning components
Customised User Interface (UI)
Built to support branding for individual Students
User-configurable content management.
Access to multiple courses and applications
Field save state to all information and data captured.
User friendly online membership form built on Partner Communities
Out of the box and custom duplicity checks to ensure data and business process governance
Growth hub portal helps in providing information related to upcoming events, existing courses on a real time basis via integration with different marketing channels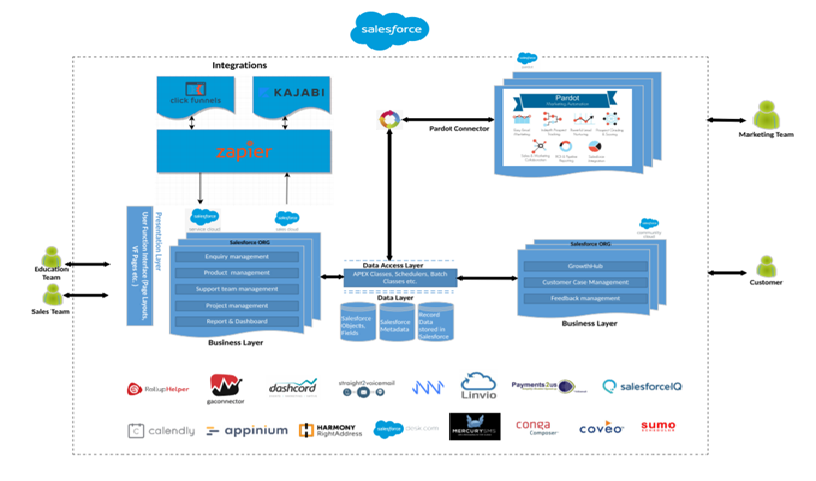 The Outcome
Fully integrated community portal (Growth Hub) that allows clients to manage all the activities from a single interface including Event management, marketing activity tracking, member on boarding and managing relevant course contents (enrolled, as well as upcoming courses)
A system that allows seamless integration with other marketing platforms i.e. Click Funnel, Dashcord, Schedule One, Kajabi etc. for capturing leads
Campaign Management
Customizable Campaign management based on target groups with respect to the available products
Associate all the opportunities with multiple campaigns so that marketing team can capture marketing sourced deals and lead from other sources while keeping an eye the amount of revenue generated for a specific campaign
Case Management for Members
Case routing, assignment and management assists in processing referred applications faster and more effectively
Automatic case creation through growth hub portal
Case assignment to relevant customer service queues based on membership status
Event and Membership Management
Publishing the Events, Campaigns to the community for upcoming events
Members are allowed to redeem their inclusions online – provide visibility and tracking how many Inclusions are used and the balance of unused Membership Inclusions.
Automatically enable the contacts of opportunities as growth hub community user
User friendly online membership forms built on Partner Communities
Growth hub portal helps in providing information related to upcoming events, existing courses on a real time basis via integration with different marketing channels
Real-time collection of attendance data in the Growth Hub portal so that it provides a holistic view of customers
The Growth hub user will be able to see Office hours and Events on same calendar view. They can and invite Guests to an Event who can have a better user experience now that inclusion can be cross checked and displayed.
Users will have a holistic view of customer paying for online services/products.
Upload all the workshop events in one go for entire year
User will be presented with different options to upload the event csv
Operational Efficiencies
Split payment functionality to split a single and full amount of payment in two or more simultaneous transactions made by different payment methods.
Out of the box and custom duplicity checks to ensure data and business process/data governance
Track the historic leads coming from various sources so that the team will be able to better utilise their time on closing deals and providing excellent customer service. This information allows team to formulate customised sales pitches that best match each customer's unique needs building a stronger relationship.
Share this post on: