Salesforce Community Cloud Implementation Case Study
December 18, 2020

Girikon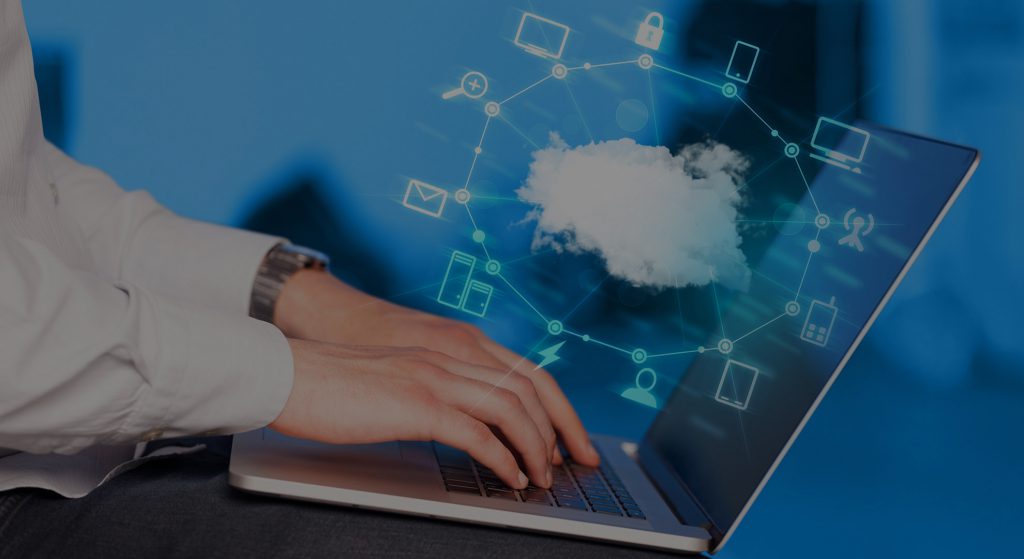 Background
Girikon entered a contract with a leading equipment finance specialist that offers customer equipment finance including commercial assets, business lending, etc. to customers across construction, agriculture, and manufacturing industries. Girikon was engaged to implement a CRM Partner Portal which included Lightning-enabled Salesforce Community Cloud.
Girikon was evaluated against several service providers and was selected due to its record in Salesforce Community implementations for small to large-sized businesses' as compared to other providers. Girikon's track record, delivery quality outcomes, efficiency, and cost-effective rates were taken into consideration during the selection process. The client engaged with Girikon on a Salesforce Partner Communities project to leverage Girikon's high-end Salesforce Expert Status. Besides their successful & quality outcome, it was the effectiveness of Girikon's onshore/offshore model, as well as the positive management of senior stakeholders and detailed analysis phase that gained the trust of the client.
About the Client
The client is a leading equipment finance specialist that deals in commercial asset lending i.e. Trucks, Trailers, Construction Machinery, Agriculture Machinery, and Motor Vehicles. They strive to help their customers secure the right finance solution as per their specific needs.
Their business is built around a simple, yet extremely effective business structure that is facilitated by the services and IT platform leveraged by them.
The Client's vision was to expand their partner referral program which needed a robust UI/UX enhanced solution to take advantage of the growth in the industry. Besides opting for Salesforce Sales Cloud and Partner Communities, the Client chose Girikon as a quality Salesforce Partner.
The Problem
In a previous engagement, Girikon implemented Sales Cloud for the client. The equipment finance specialist found that the following problem was solved using this platform:
To track and maintain the partner lead enquiry pipeline.
Capture customer/lead interactions due to the limited potential of partner reps.
See daily activities and next steps related to prospects, leads, and customers of the client due to the absence of a common platform.
Track the customer's journey due to the absence of defined processes.
Automate the process of entering lead details into the CRM.
Track referral commissions.
Develop standard dashboards and reports
Configure the platform to suit their evolving business processes
Configure/customize business-critical functionalities including opportunity Kanban views, notes, and management integration
The Referral Partner onboarding and management were completed manually with the owner receiving calls from Partners daily with individuals or companies providing details, which needed to be captured in spreadsheets and manually entered into Sales Cloud.
The solution
Girikon provided the Client team with a scalable customer/partner community solution. The solution captured enquiries from various lead sources to track and manage enquiry pipeline, enable faster turnaround time for processing customer service engagement, provided access to complete information of the customer, and their related data throughout the sales lifecycle.
The following modules were implemented to achieve a business process solution:
Partner registration/Onboarding.
Partner Login and reset password functionality.
Partner Lead Management (Manual, Web to Lead)
Account and Contact Management
Opportunity Management
Commission Management
Reports and Dashboards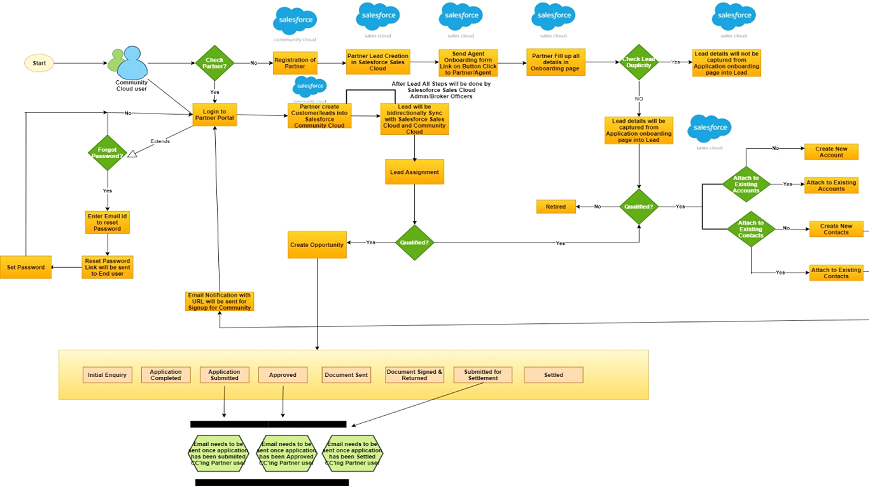 Solution Inclusions and Features
Implementation of Community Cloud was done to track and have a 360 view of the enquiries inflow/progress, customer details, and sales pipeline. Besides this, it increased the collaboration between partner and several other teams involved during the Sales cycle and Weekly/Monthly Reports and Dashboards generation for better analysis of business performance.
Agent Referrer On boarding
Design the Agent/Partner register page.
After registration Lead creation into the Salesforce.
"Application Onboarding" form design.
Application button set-up and on click "Application Onboarding" form will be sent.
Application onboarding form details filled up by Partner will be captured in Salesforce leads.
Lead Conversion to Account and Contact.
Enable the partner portal user while notify and send the email to the portal for access.
Agent Login
Design the Agent/Partner Login Page
After successful login, design Agent/Partner/Referrer home page
Setup chatter for communication between Agent and Client Finance team.
Source of Lead Generation
Web to Lead creation in Salesforce
Manual creation (Leads created by Partners)
Design and setup the Lead Page
Lead Assignment
Lead Duplicity Check
Add the notes tab to lead
Opportunity Management
Design and setup the Opportunity page.
Opportunity tracking and progress view access
Display a visual summary of the opportunity with Kanban
The Email needs to be sent when the application has been approved, submitted, and settled.
Add notes to Opportunity
Add attachments tab to Opportunity
Account Management
Design and setup the account page.
Duplicate Management
Setting up a relation between Account and contacts.
Contact Management
Design and setup the contact page.
Duplicate Management
Integration
Community Configured with Sales Cloud
The Outcome
The client team is now able to collect and organise actionable customer data, accurately quantify, categorise data for future reference across different departments. All teams keep accurate and accessible records of customer transactions, preferences, making detailed customer information communicable. Broker/Sales Support team can retrieve all available information concerning the loan, finance, and business details of all customers, which might help the Broker team to keep a track of the customer and what was financed or sanctioned.
As a result, customers know the status of their loan application to track it via emails. Birthday emails and term anniversary emails will be sent to customer every year. Every department can now tag either individuals or team to send accurate information to the right individual. With this new-found ease, teams can seamlessly work together to improve the bottom line. Personalise their dashboard views to quickly locate information needed such as customer information, Opportunity revenue pipeline, and lead lifetime and performance reports to explore untapped opportunities. With better reporting data, the client team were able to make resourceful and effective decisions to reap the rewards of customer loyalty.
Customer Satisfaction
I can highly recommend the Girikon Team. They have been amazing since my first contact with them via their website to our Go-Live Date.
(Broker Support Officer)
Share this post on:
Request your complimentary Salesforce consultation